Sparre and Bukharov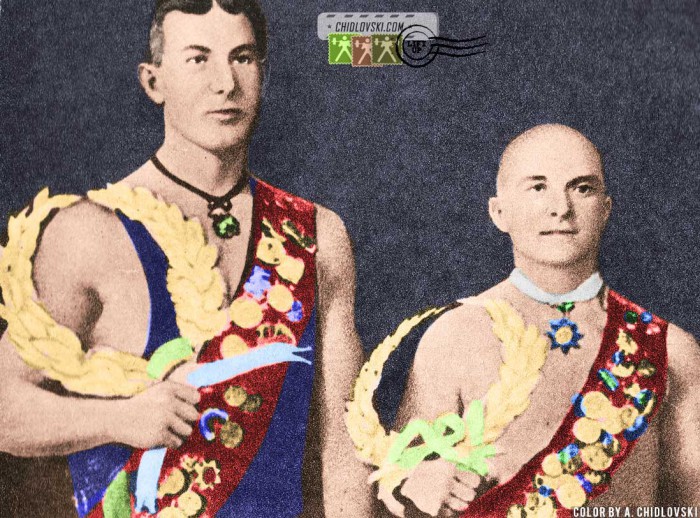 History in Color series a color version of the portrait of two remarkable personalities in the early history of Olympic weightlifting in the Soviet Union. Jan Sparre Sr. (left) and Alexander Bukharov were the pioneers of the national weightlifting.
Jan Sparre Sr. (1891-1962) won 10 USSR Championships (1918. 1920, 1922, 1023, 1924, 1926, 1927, 1928, 1932, 1934). He represented various sport clubs in his native Latvia and in Moscow, Russia. Sparre set 58 national records before the WWII. His son Jan Sparre Jr. (1934-1982) was a popular Soviet boardcaster, the voice of Olympic weightlifting on TV for many fans of the Iron Game in the USSR.
Alexander Bukharov (1892-1952) was 6x USSR Champion in the featherweight (1918, 1920, 1922, 1923, 1924, 1926). He competed for the Sanitas and Dynamo clubs in Moscow and held 24 national records from 1917 to 1933 . Known as Uncle Sasha between the athletes, he later became an outstanding sports manager, for over 30 years worked as the head weightlifting department in the USSR Sports Committee.