Alexander Gunyashev In Sweden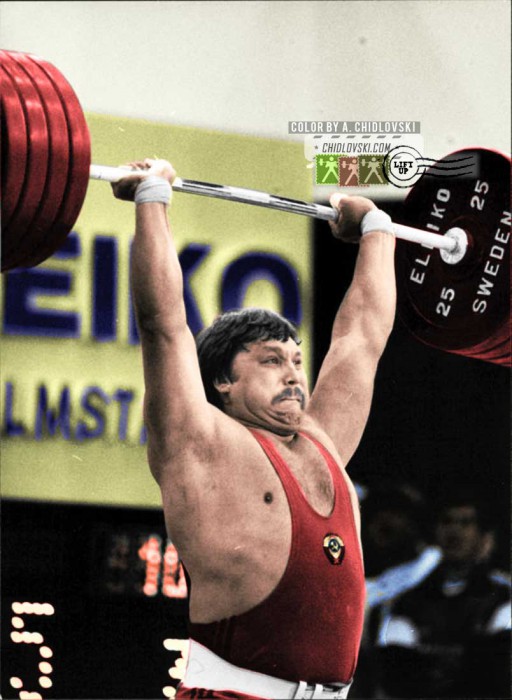 August 30, 1985, Sodertelje, Sweden – Alexander Gunyashev of Taganrog, Russia competes in the super heavyweight class at the 1985 World championship in Sodertelje, Sweden.
Alexander Gunyashev (b. 1959) was one of the most promising Soviet super heavyweight of post-Alexeev's era.
Gunyashev was a part of impressive wave of athletes that emerged after Vasily Alexeev retired from competitions and the place of the strongest man in the World became vacant. The group included well-known athletes (Sultan Rakhmanov, Vladimir Marchuk and more) as well as younger athletes (Anatoly Pisarenko, Alexander Kurlovich, Sergey Didyk and more)
At the same time, another weightlifting legend David Rigert was changing gears from being an athlete to coaching athletes. To the benefit of Gunyashev, David Rigert began to train Gunyashev during this transition. Rigert definitely knew the potential of his new student when he was appointed as the Head Coach of the national team.
At the very beginning of his rise to the very top of the world listing of supers in the early 1980s, Gunyashev's strongest lift was his snatch. Later on he significantly improved his clean-and-jerk performance.
In 1985, Alexander Gunyashev became a European champion with 417.5kg total (192.5+225). The cover photo depicts Alexander Gunyashev at the 1985 World championship in Sodertelje where he won a silver medal. He did improve his total by 15kg  (432.5kg, 195+237.5) compared to the Europeans but it wasn't enough to beat Antonio Krastev of Bulgaria.
In 1983, Gunyahev won the USSR Cup with 462.5kg total and national gold medals both in snatch (207.5kg) and clean-and-jerk (255kg).
He also won the USSR championship in 1988 where he snatched 212.5kg, cj'd 252.5kg and reached 465kg total (212.5+252.5). 
Alexander Gunuashev set 6 world records in his career – 4 in snatch, 2 in total.
It was Gunyashev who totaled his outstanding world record of 465kg on June 1, 1984 in Reims.