Estonian Strongman Toivo Kurg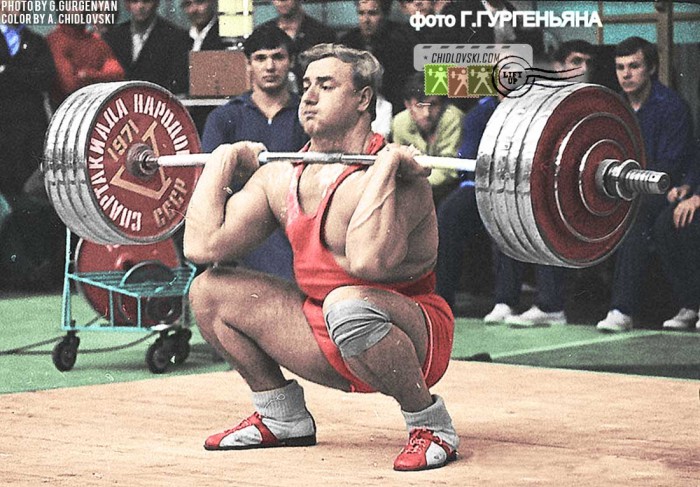 July 23, 1971, Moscow, USSR – 25-year old Estonian heavyweight Toivo Kurg competes in the 110kg weight class at the 1971 USSR Spartakiad in the Red Army Weightlifting Hall in Moscow.
Toivo Kurg (b. 1946) was one of the strongest Soviet heavyweight athletes in the 1970s. He reached the Top 8 of several USSR Championships. In 1973, he won the bronze medal in the 110+kg classat the USSR Championship in Donetsk, Ukraine where he was behind such super heavyweight grand masters as Vasily Alexeev and Stanislav Batishchev.
Young Toivo began to train as an Olympic weightlifter when he was studying to become an electrician in the vocational school in Tallinn. From 1966 to 1982, Kurg won 13 national titles at the Estonian championships. His best totals were 560kg in three lifts total (1972, 195+150+215) and 400kg in two lifts total (1977, 170+230). After the end of his career as an athlete, Toivo Kurg worked for 20 years as a welder.
Besides Olympic weightlifting, he also competed in the throws and shot puts on the national level in Estonia and in the powerlifting where he totaled impressive 870kg (330+210+330) in 1980.
The History in Color photo shows Kurg when he was 25 and competed for Estonia at the 1971 USSR Spartakiad in Moscow. He took the 8th place with a 540 kg total (190+145+205).
---
Note: The results above include the following results (kg)
TOTAL = SNATCH + CLEAN-AND-JERK