Brazilian Beaches and American Weightlifting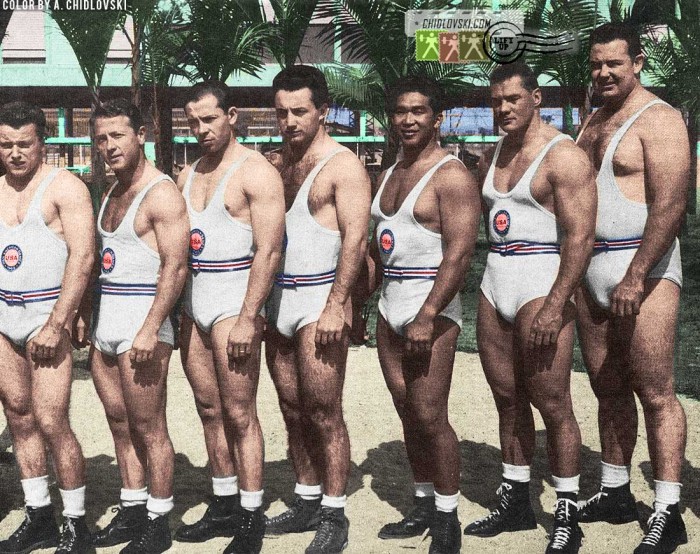 Palms, beaches and seriously strong guys from the United States. The History in Color series features Team USA Weightlifting at the 1963 Pan American Games in Sao Paulo, Brazil.
Left to right:
Gary HANSON (56kg, 3rd place), Isaac BERGER (60kg, 1st place), Tony GARCY (67.5kg, 1st place), Joe PULEO (75kg, 1st place), Tommy KONO (82.5kg, 1st place), Bill MARCH (90kg, 1st place) and  Sydney HENRY (90+kg, 1st place)
---
Pan-American Games since 1951

1963 Pan-American Games
Location: Sao Paulo, BRA
GOLD MEDALISTS

WeightClass
NameTotal (kg)56Bantamweight

Martin DIAS, Guyana
60Featherweight

Isaac BERGER, United States
67.5Lightweight

Anthony GARCY, United States
75Middleweight

Joseph PULEO, United States
82.5Light Heavyweight

Tommy Tamio KONO, United States
90Middle Heavyweight

William MARCH, United States
90+Super Heavyweight

Sydney HENRY, United States
Note: To view a complete list of the winners in the weight classes above,
please follow the link associated with the weight class.