Great USA vs. USSR Series of Matches in 1955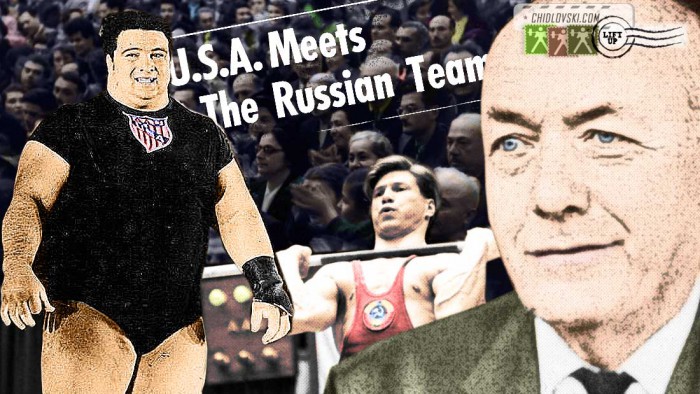 Just added the new items to the Lift Up project. One of them is the great USA vs. USSR weightlifting series of matches in 1955.
The matches were a part of a good will tour of Team USA Weightlifting to Russia and Middle East in 1955 organized by the AAU and U.S. State department.
The matches in Russia were held in Moscow and Leningrad in June 1955. Bob Hoffman of York Barbell brought one of the classiest American weightlifting team to the Soviet Union. In fact, it was the first EVER visit of American sports team to Russia and it was a huge event back then.
Bob Hoffman remembered in his notes that initially the invitation to visit Russia came from Konstantin Nazarov, one of the  leaders of Soviet weightlifting federation back in 1953 in Stockholm. Nazarov even suggested dates for the series to be held – next February.
"It is pretty cold in Russia in February, isn't it?" said Hoffman.
"Never mind," answered Nazarov. "We will give you high boots, long coats and warm hats and you will not be cold."
Two years later the converation materialized into the 1955 USA vs. USSR series in the top Soviet cities.
You can see more info on the 1955 Team USA Tour by following these links to the Lift Up:
View a short segment on Paul Anderson in the USSR in 1955 below.