Morning Promenade in Dubna, Russia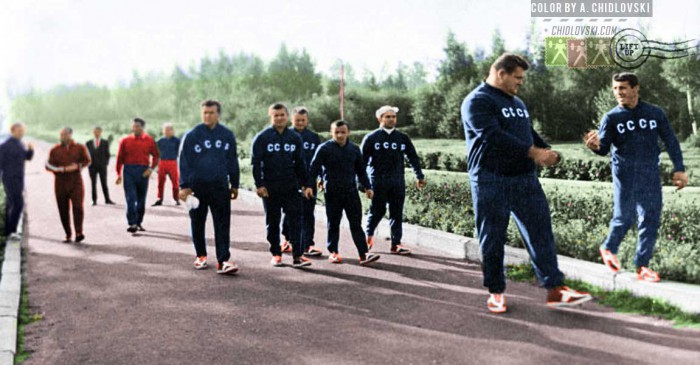 The original black-and-white photo for the History in Color cover came from the archives of the famous Soviet athlete and coach Arkady Vorobyev.
The photo shows the Team CCCP Weightlifting on the early morning promenade in Dubna, Russia in 1968. Vorobyev was the head coach of the national team and the athletes were getting ready for the Summer Olympics in Mexico City.
Here are his comments to the photo:
"The national team went out for a morning work-out. In front on the right – D. Shanidze and L. Zhabotinsky; further behind them – J. Talts, Y. Smirnov, G. Chetin, B.Selitsky; then V. Belyaev, A. Vorobyev and J. Krynitsky. All athletes were USSR and World champions. Some were Olympic champs. The training camp was in Dubna in 1968."