Captain Bruins and Captain Red Army in 1976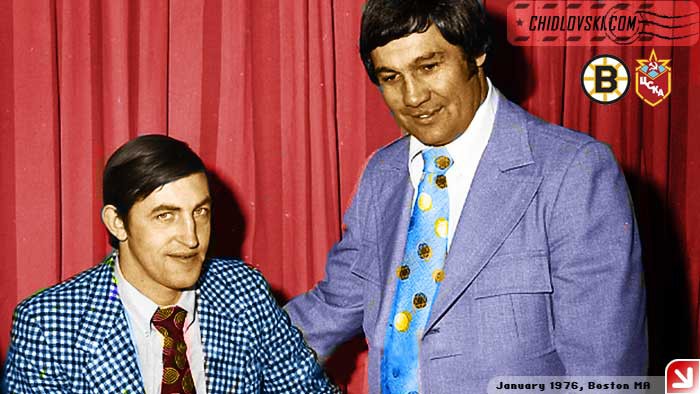 Two legendary captains, John Bucyk of Boston Bruins (right) and Boris Mikhailov of the CSKA are pictured at the joint dinner before the game played in the Boston Garden on January 1976.
The game was a part of the Super Series 1975-76, the first time in the hockeyhistory when the Soviet clubs played versus the NHL clubs. Of course, to me it's a more familiar territory than the first decades in the Bruins history.
The series took place after the big trade between the Bruins and Rangers when Boston acuired Brad Park, Jean Ratelle and Joe Zanussi for Phil Esposito and Carol Vadnais. It was odd to see Esposito wearing a NYR jersey and Ratelle and Park having the big B on theirs.
---
Thursday, January 8, 1976
 CSKA 5 at BOSTON BRUINS 2 
Attendance: 15.003
CSKA: Tretiak; Vasiliev – Gusev, Lutchenko – Tsygankov, Kuzkin – Volchenkov, Mikhailov – Maltsev – Kharlamov, Vikulov – Zhluktov – Alexandrov, Popov – Kutergin – Lobanov, Solodukhin, Volchkov
Boston Bruins: Gilbert; Park – D.Smith, Doak – Edestrand, Sims;
Schmautz – Ratelle– Marcotte, Bucyk – Sheppard – Cashman, O'Reilly – A.Savard – Forbes, Gibson – Hodge – Nowak
FIRST PERIOD
No Scoring
Penalties: Smith 16:03, Alexandrov 17:20.
SECOND PERIOD
1. Boston – Forbes 2:54
2. CSKA – Kharlamov (Maltsev) 4:41 PPG
3. CSKA – Kharlamov (Maltsev) 11:00
4. CSKA – Maltsev (Vasiliev) 13:19
5. Boston – Ratelle (Hodge) 17:31 PPG
Penalties: Schmautz 3:31, Cashman 11:00, Zhluktov 17:26.
THIRD PERIOD
6. CSKA – Tsygankov (Alexandrov, Vikulov) 0:43
7. CSKA – Alexandrov (Zhluktov) 8:58
Penalties: Tsygankov, Hodge 4:30, Schmautz 9:22
Shots:
Gilbert (Bos.) 8 5 6 – 19
Tretiak (CSKA) 19 8 13 – 40