Now and Then (1972-2016): Bench Russia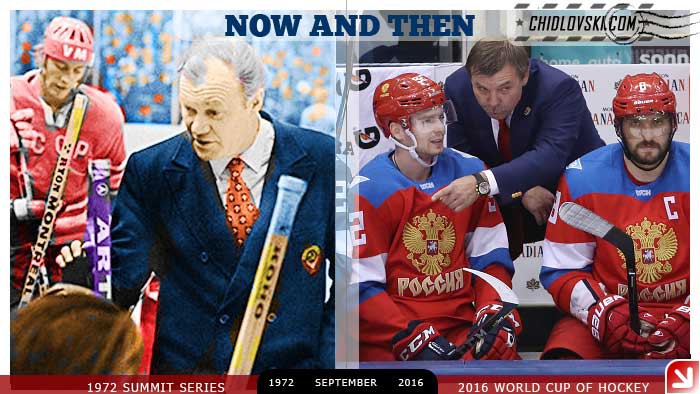 The look of the Russian players and coaches at the bench reflects changes in Russian hockey in the last decades.
Legendary coaches of the Soviet team Tarasov, Chernyshev, Bobrov, Kulagin and Tikhonov preferred to manage their team being in fromt of the players' bench during the game.
Vsevolod Bobrov, Team USSR coach in 1972, followed this style too. It was odd in the eyes of Canadian coaches' eyes according to their post-series memories.
Nowadays, the coaches of Team Russia and clubs in the KHL are overlooking the games from behind the bench with players. It's one of the signs of conversion to the NHL style.
Somehow, it's one of the elements showing how many things Russia preempted from the NHL. Although the KHL was created as an alternative league to the NHL, it did patterned most of the hockey experiences from the NHL.
Perhaps, the only thing left untouched is the bigger size of the ice rinks in Russia and in Europe.
Save