Balderis vs. Pelle Lindbergh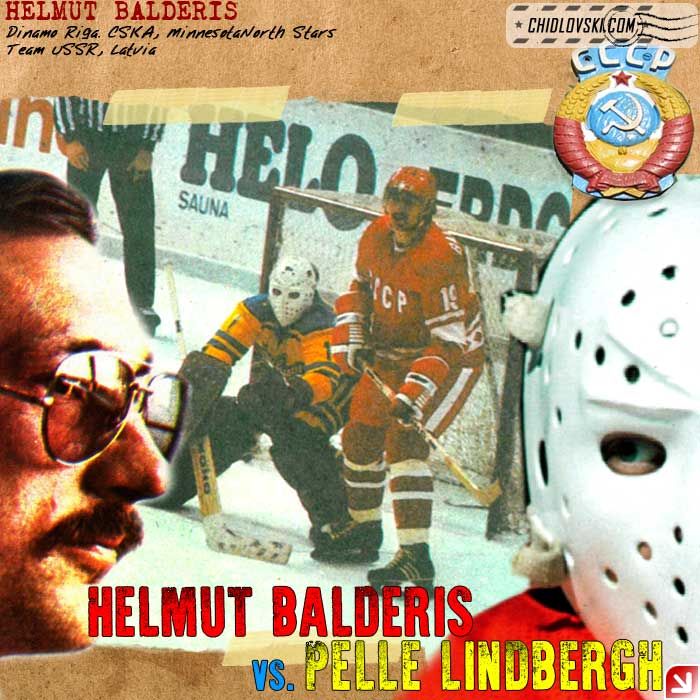 As most of you know, Balderisomania never stops at Chidlovski.Com!
It's hot in Boston. Thinking about hockey, watching hockey go great with the summer heat if the city.
Back to the topic – Helmut Balderis vs. Pelle Lindbergh.
Two great stars of their times. I bet there are tons of fans of Pelle around the world and in his home country Sweden. One of the best Swedish goalies of all times, Pelle Lindbergh was a winner of the Vezina Trophy for the best goalie in the NHL in 1985, selected to the NHL 1st All-Star Team (1985), played in the NHL All-Star Games (1983, 1985).
On the international arena, Lindbergh played vs. Balderis on numerous occasions including WC in 1979, Winter Olympics in 1980 and the last world championship for Balderis in 1983.
Shortly after the WC in 1983, Balderis officially retired in 1985. He did have a comeback when he returned to elite hockey to play 26 games with the North Stars in the NHL. He was 37 and he marked the NHL record book as the oldest rookie to play in the League.
On the other side of the counter action between the magician goaltending  and a magician of goal scoring, Pelle had a promising career with the Philadelphia Flyers in the NHL. Pelle Lindbergh died in the tragic car accident on November 11, 1985when  he lost control of his customized Porsche 930 Turbo and hit a wall in front of a elementary school in Somerdale, NJ.
Balderisomania never stops at Chidlovski.Com!
Save