Sebastiano Mannironi (Italy): Grandi Classici del Sollevamento Pesi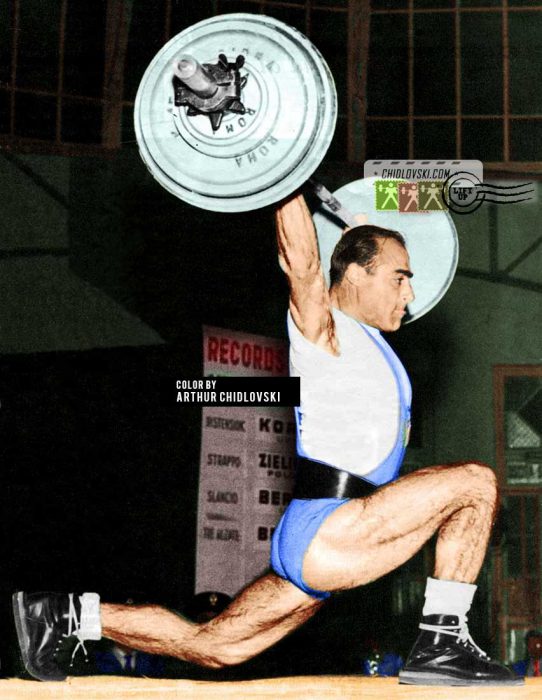 History in Color:
One of the best Olympic weightlifters and overall athletes of Italy, Sebastiano Mannironi performs a snatch lift in a slick split style in 1960.
Sebastiano Mannironi (1930-2015) was a definite elite contender in the featherweight class from early 1950s to mid 1960s.  He held a distinct Top 5 position in the world for almost 15 years. From 1953 to 1966, Mannironi managed to win a bronze Olympic medal (1960), 2 silver (1957, 1961) and 2 bronze (1958, 1959) medals at the World Championships, 1 gold (1961), 5 silver (1956, 1958-1960, 1963) and 4 bronze (1953-1955, 1966) medals at the European Championships.
Sebastiano Mannironi was 3x Olympian of Italy. He represented his home country in the featherweight at the Summer Olympics in Melbourne (1956), Rome (1960) and Tokyo (1964). Mannironi won his bronze Olympic medal in front of a home crowd in Rome in 1960.
Recently, the name of great Italian weightlifting champion Sebastiano Mannironi was brought in a media spotlight again. He was the last Italian athlete to set a world record. It happened on June 28, 1958 in Rome, when Mannironi snatched 111kg in featherweight.
64 years afterwards, on June 2, 2022, Antonino Pizziolato won a priceless gold medal at the 2022 European Championships in Tirana and set two world records – 217kg in sj and 392kg (175+217) in total.
The brilliant result by Pizzolato doesn't outshine the record by legendary Mannironi. It rather makes both names shine today. Isn't it the way it is supposed to be in sports?