David Rigert Sets New World Record in Beograd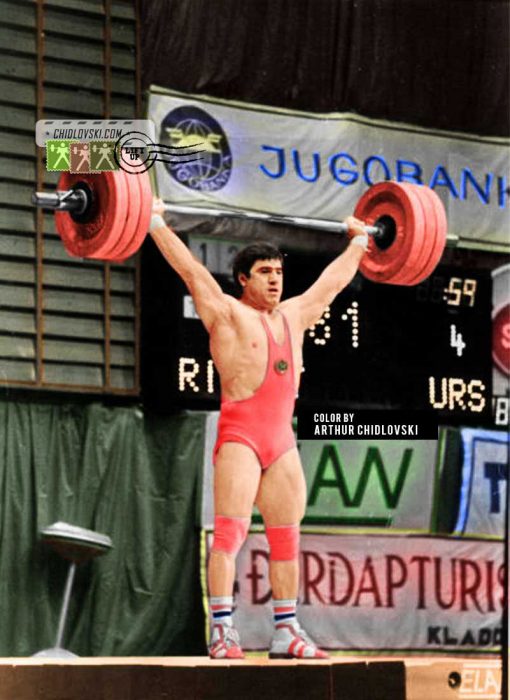 May 2, 1980, Beograd, Yugoslavia – 33-year old weightlifting super star, Olympic champion David Rigert of Shakhty, Russia snatches 181kg in the 4th attempt and sets a new world record in the 100kg weight class at the 1980 European Championships in Beograd.
In Beograd, David Rigert won his 9th European title and with a 387.5kg (177.5 + 210) total he was 15 kilos ahead of the silver medalists. His prospective to win a gold at the upcoming 1980 Summer Olympics in Moscow seemed more and more real.
However, in the middle heavyweight (90kg), both Soviet candidates to the Olympic team, Valery Shary and Gennady Bessonov lost to a 20-year old Rumen Alexandrov of Bulgaria. It planted a seed of doubt in the coaches' mind about who should represent the country at the Olympics. With 10 weeks left to the opening of the Games in Moscow, the decision was made to shift Rigert 10kg down to the 90kg class and, with a number of solid Soviet contenders in the 100kg, the solution seemed to be found.
Of course, the were only 10 weeks left to the Olympics and losing 10kilos was a serious challenge for David Rigert at 33.
The rest of the story is known. At the 1980 Summer Olympics, David Rigert did compete in the 90kg class and bombed out at 170kg for an opener in the snatch lift. As for the 100kg class, the Olympic gold was won by Ota Zaremba of Czechoslovakia.