Mladen Kuchev (Bulgaria): Ulm International in 1972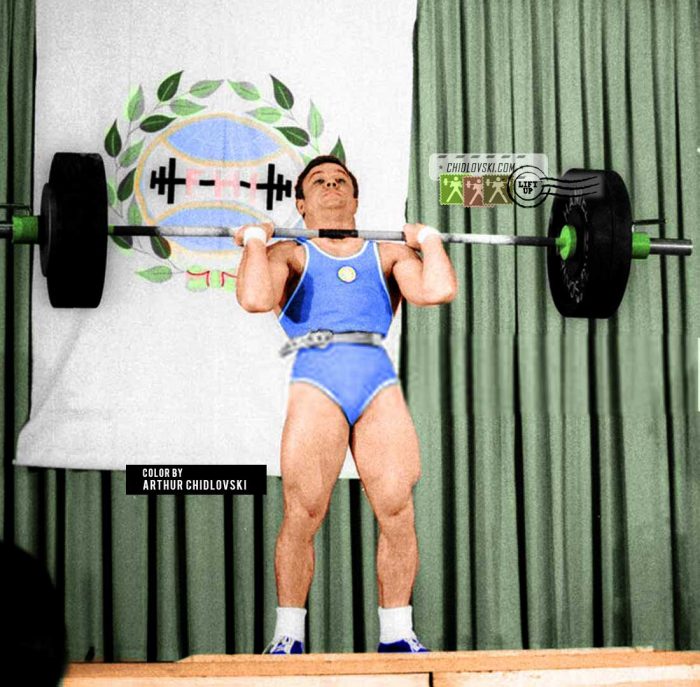 History in Color:
March 4, 1972, Ulm, Germany – Lightweight Mladen Kuchev of Team Bulgaria performs a press lift in the 67.5kg weight class at the pre-Olympic international tournament in Ulm, Germany.
Six months later, Kuchev won a silver Olympic medal for Bulgaria with a world record in press (157.5kg). Olympic press lift was eliminated from weightlifting competitions after the Olympics in Munich and Kuchev's record became an "eternal" world record in the 67.5kg class.
Mladen Kuchev (b. 1947) was the member of the first national team assembled by Ivan Abadzhiev when he was appointed to run national weightlifting Team Bulgaria. He was a 2x Olympian. Besides a silver medal in the 67.5kg class in Munich (1972), he took the 9th place in the 60kg class in Mexico City (1968).
Mladen won 4 silver (1969, 1970, 1972, 1973) and 1 bronze (1975) medal at the World Championships. He was a 3x European champion (1969, 1970, 1972) and won 8 national titles in Bulgaria.
Kuchev's forte was certainly his press lift. He set 10 world records in his career. 9 of them were in the press lift.