Abdul Wahid Aziz (Iraq)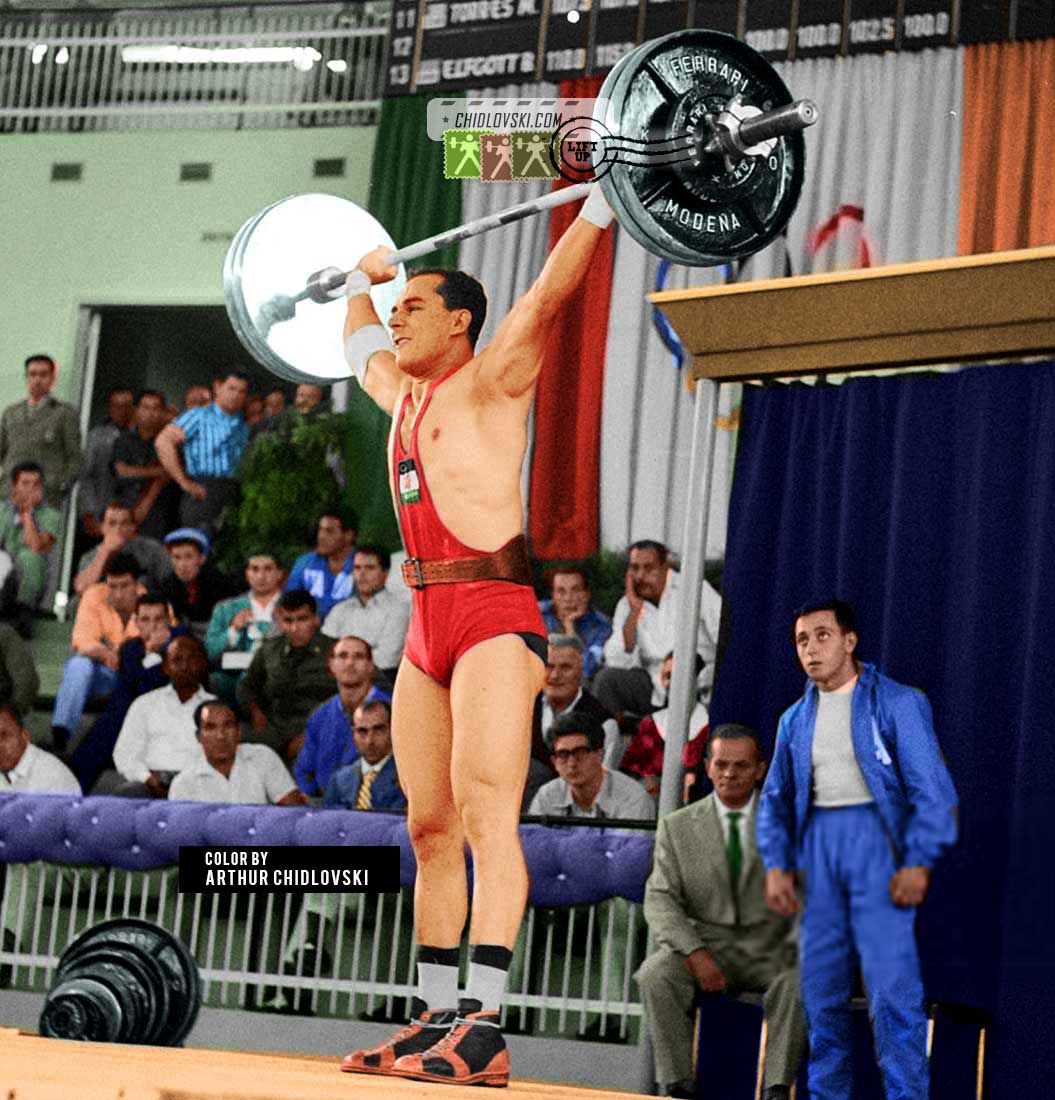 History in Color:
September 8, 1960, Rome, Italy – 29-year old Abdul Wahid Aziz, lightweight of Team Iraq, snatches 115kg in his 3rd attempt on his unforgettable way to a bronze medal in the 67.5kg weight class at the 1960 Summer Olympics in Rome.
Abdul Wahid Aziz (1931-1982) of Basra, Iraq is definitely a milestone athlete in the history of Olympic sports of Iraq. At the 1960 Olympics in Rome, he won the bronze in weightlifting and it was the first and, as of now, the only medal ever won at the Olympics by Iraqi athletes.
A year before the Olympics, Aziz had an outstanding entrance at the 1959 World Championships in Warsaw. He won a bronze medal in the lightweight with a 362.5kg (105+112.5+145) total.
The next year in Rome, he added 17.5kg to his total and won his historic bronze medal at the Olympics with a 380kg (117.5+115+147.5) total! In fact, it was a second result that night – both Abdul Aziz and Howe-Liang Tan of Singapore finished with the same total result. The silver went to Tan because he was lighter than Aziz.
It was a remarkable performance for Abdul Aziz on many accounts. Aziz won the first ever medal at the Olympics for Iraq. On the other hand, little known about in Olympic weightlifting before, Abdul Wahid Aziz bypassed on his way to the Olympic pedestal such outstanding athletes as Marian Zielinski, Waldemar Baszanowski (both Poland), Mihaly Huszka (Hungary), Werner Dittrich (East Germany) and more.