Frank Rothwell: Go Ireland!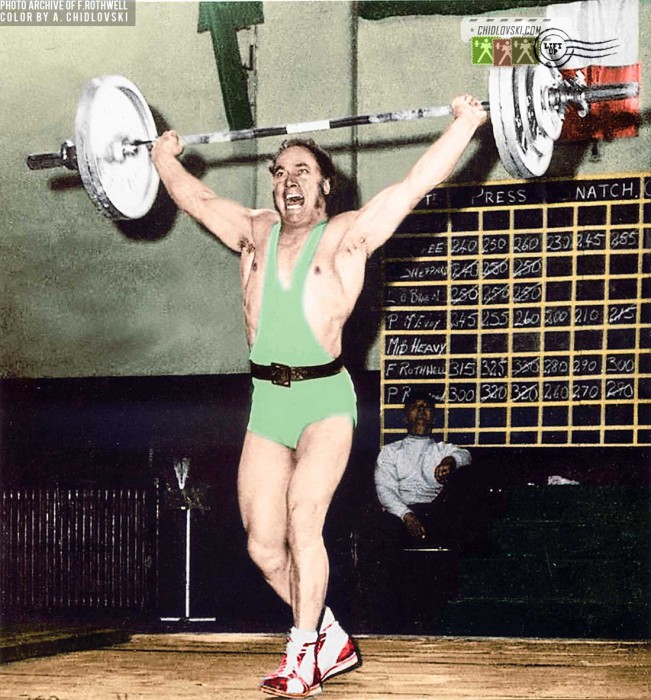 In 1960 I made a decision to double my training load. To achieve this I made a set of weights from some gear wheels and started training in my kitchen. Training under these conditions was very difficult, not only because I could not risk dropping any weights, but the weights had to be stored after each training session and taken out and assembled before each new session. A typical day would be; I would arrive home from my engineering job at 7.PM,have a high protein drink, and get the weights out and assemble them. I would train until 9.30 or 9.45. I concentrated on Pressing, Power Snatch, Power Clean, heavy Pulls and Front and Back Squats. I would then store the weights away and have my dinner at about 10.PM. I did this for TWELVE YEARS! This training paid dividends and I made good progress. I broke the 700 pounds total mark at 160 pounds bodyweight."
Frank Rothwell, My Story
Needless to say, Ireland has never been one of the Olympic weightlifting powerhouses through the history of this sport. However, that shouldn't diminish appreciation of the spirit, passion and dedication of Irish weightlifters in their path to success on the competition platform.
Historically, there were three Olympians among weightlifters of Ireland –  Samuel DALZELL, Thomas HAYDEB and Francis ROTHWELL. The History in Color cover photo of this article depicts one of the Ireland's all-time best weightlifters, Frank Rothwell competing at the 1972 Olympic Trials.
Frank Rothwell competed at the 1966 World Championship in East Berlin and at the 1972 Summer Olympics in Munich. He was a weightlifting contender, brilliant coach and he remains an active contributor to the Olympic weightlifting history research today. For many years, he maintains My Story: Frank Rothwell's Weightlifting Life website and his megahit channel @YouTube with tons of weightlifting videos.
Frank Rothwell is a dear friend and always provided a priceless input to the Lift Up project since the project was launched back in the late 1990s.
One of my favorite films from Frank's collection is the one showing him training for the Olympics in his home kitchen.