Coaches and Athletes: Mekhanik and Ivanov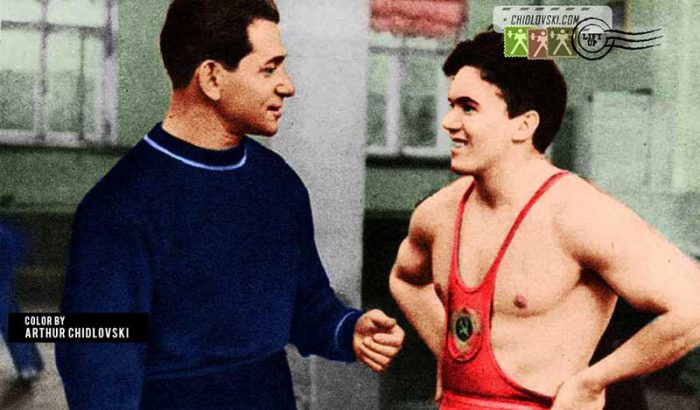 History in Color @LiftUp
Moscow, Russia, USSR, Fall 1953 – Team USSR coach Israel Mekhanik talks to his student athlete Dmitry Ivanov during a training session in Moscow.
There is a definite coach-and-athlete chemistry between the two legends of Soviet Olympic weightlifting on the cover photo.
Being a coach of Team CCCP, Mekhanik was famous for his superb individual work with world-class athletes. He was able to prepare numerous athletes for impressive wins in the international contests. In many cases, his students were either back-ups or not selected to the national team as leads in their weight classes. For example, Israel Mechanik was responsible for the Olympic gold by Rafael Chimishkyan at the 1952 Summer Olympics in Helsinki, D.Ivanov's gold medal at the 1954 World Championship and several other impressive victories.
As an athlete, one of the pioneers of weightlifting in the USSR, Israel Mekhanik (1909-1989) competed in the light weight for the Lokomotiv club of Moscow, Russia before and after WWII. From 1934 to 1949 he won medals 12 times at the USSR Championships. He won the European title in 1947 and the USSR title in 1939.Mekhanik set 1 world record and 15 national records in his career in Olympic weightlifting.
In addition to sposrts, Mekanik was a decorated WWII veteran. He served as a lead in the special ops units on the occupied territories of the USSR.
Dmitry Ivanov (1928-1993) was one of the most known journalists that provided coverage of Olympic weightlifting in the Soviet press for decades.
Ivanov wrote articles for the "Soviet Sports Daily", the major daily newspaper and the major information source on sports events in the nation and the world. So, several generations of Olympic weightlifters and fans were getting info and protocols of the Olympic and World Championships and local tournaments through Ivanov's writings. Besides newspaper reports, Dmitry Ivanov wrote several bestselling non-fiction books about Olympic weightlifters.
Prior to his career in journalism, Ivanov was a distinguished athlete and champion. He competed in the 67.5kg class for the Moscow Spartak club and won the USSR championships in 1953 and 1954. In 1952, he won the bronze medal at the USSR nationals. On the international level, Ivanov won the World championship in Wienna (1954) and European Championship in 1953 and 1954. Dmitry Ivanov also set 4 world records (3 in the press and 1 in the snatch lift.)