Kyiv Strong: Grigory Novak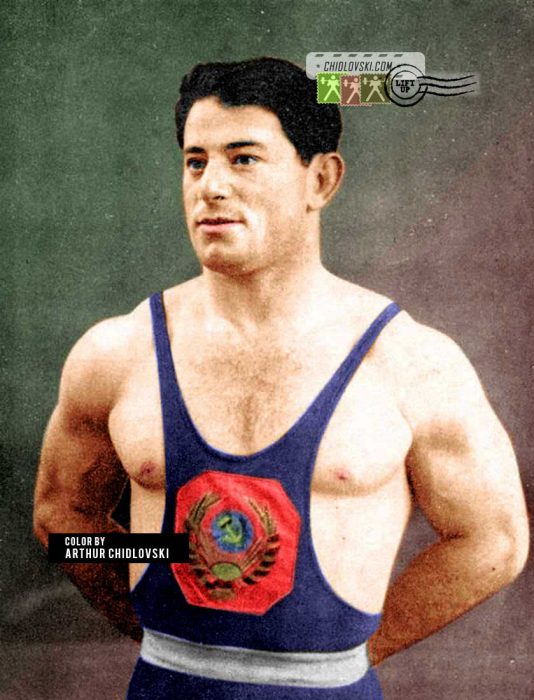 History in Color:
July 1952 – Member of Team USSR Weightlifting, middle heavyweight Grigory Novak participates in the joint photo session organized by the Soviet media at one of the last training camps before the 1952 Summer Olympics in Helsinki, Finland.
Grigory Novak (1919-1980) was the first World Champion ever for the Soviet weightlifters. Grigory Novak won the gold in the 82.5kg weight class at the 1946 World Championships in Paris and became the first ever Soviet champion in the World in all sports. The Soviet fans instantly got a national hero in Grigory Novak. He became one of the most popular sports personality in the country. As for the World of Olympic weightlifting, they got a new king of the press lift. Grigory Novak is still being remembered as one of the most impressive strict style pressers of all times and nations.
Born in Chernobyl (Kiev's region), Grigory Novak began to train and compete as a weightlifter for the Pravda Club in Kiev and for the Soviet Wings when he moved to Moscow. In his remarkable career in Olympic weightlifting, Novak won gold medals at the World Championships (1946), European Championships in 1947 and a silver Olympic medal in 1952. He won 8 USSR titles  (1940, 1943-1946, 1948-1949, 1951), 3 Ukraine titles (1939-1941) and managed to set 10 Ukrainian records, 86 USSR records and 25 world records.
---
"Kyiv Strong" features historical portraits of legendary weightlifting champions from Kyiv, Ukraine.
Kyiv Strong is a mini-series within my History in Color series about old-time Olympic weightlifting in color. Of course, strength is not always about muscles and kilos being lifted in the trainings halls and competitions. Today, we are all watching TV reports about people of Kyiv fighting for their city in the war. Most of them are not athletes at all but they are strong with their spirit and determination to defend their land and the place they live in. It's not about sets and reps. It's dedicated people of Kiev, to their courage and unbreakable strength of character.