About the Lift Up Project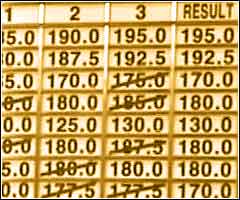 The Lift Up site is a personal tribute to Olympic weightlifting, to the Olympic weightlifting history and to its legends. The site is an author's project and it is a part of several web-based projects developed by chidlovski.com.
Like everything else at chidlovski.com, the Lift-Up project is a non-commercial venture. But, unlike most of that site, it's not about its author.
Lift Up is dedicated to the sport of Olympic weightlifting. I used to be a competitive weightlifter in my junior years and, for a variety of reasons, I had to retire from the sport at the age of 22. I have to admit that I miss this sport. I miss training cycles, competitions and challenges of lifting up new records. I've never set world records and have never competed at the Olympics. But the beauty of this sport is in its essence - breaking your own records, pushing the limits and challenging yourself.
The original version of the site was launched in September 2000. The latest version of the site was developed in January 2008. The brief history of site versions is presented below:
LiftUp 1.0 (September 2001)
LiftUp 1.0.1 (October 2001)
LiftUp 2.0 (October 2004)
LiftUp 3.0 (January 2008)
For those who are interested in technical aspects of Lift Up development, there is more information available in the technical environment section of the site.
Although Lift Up is primarily an independent author's project, it would have not expanded to what it became now without a vital contribution of many individuals and a wide range of online resources about Olympic weightlifting.
Other than that, Happy Browsing @ Lift Up.
Sincerely,
Arthur R. Chidlovski