Competition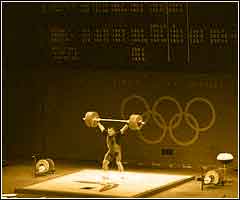 Guess what... The aim in weightlifting is quiet simple: to lift as much weight as possible. There are two types* of lift involved in modern olympic weightlifting competition:
Each contestant is allowed three attempts at each type of lift. Contestants are required to successfully attempt both the snatch and the clean-and-jerk lifts. Lifters who fail in all three attempts at the snatch are allowed to compete in the clean and jerk, but receive no overall placing. Only the heaviest successful snatch and clean-and-jerk are used when tabulating final score (total).
The weight lifted must increase by a minimum of 2.5 kg for each attempt. Competitors decide at which weight to begin and at which subsequent 2.5 kg intervals to continue. When attempting to break a national or world record, the weight increase may be as little as .5 kg (although only the nearest multiple of 2.5 kg may be counted towards the total). Each lifter has a 60-second time limit in which to approach the platform and begin the lift. If the lifter is making consecutive attempts, two minutes are allowed between lifts.
Three referees judge the weightlifting, each in control of two lights, one white and the other red. Each referee activates a light after each lift: white for a successful lift and red for a failure. In each case, two white lights is enough for a lift to be counted as valid. The activation of two like signals will set off a horn, or "down" signal, telling the lifter to lower the barbell. The "down" signal may be activated prior to the conclusion of a lift, rendering the lift invalid if two referees observe an error.
At the Olympics, the weightlifter lifting the highest aggregate total from the two lifts wins**. When a tie occurs, the man with the lower bodyweight is declared the winner. If a lifter completes a successful lift within 10 kilograms of the world record. he is allowed a fourth attempt, which does not count as part of the competition but can count as a world record.
---
Notes:
* The third type of lift, the press was discontinued following the 1972 Olympics in Munich.
** Medals are sometimes given to the top three lifters in each individual lift category and always for the overall total (best snatch plus best clean-and-jerk). Final placing is based on a lifter's total. At the Olympic Games, medals are awarded only for total.