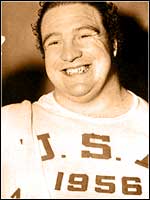 Paul Anderson (1932-1994) of Toccoa, GA was one of the strongest people on the planet in the 1950's. He was famous for his remarkable physical strength and impressive appearance (over 350 pounds bodyweight). Ironically though, he won his only gold medal at the Olympics in 1956 because his bodyweight was less than that of Humberto Selvetti of Argentina.
Andersen dominated Olympic weightlifting in the super heavyweight class primarily because of his phenomenal press. His snatch and clean-and-jerk were not nearly as competitive due to his weak technique in these lifts.
Anderson's competitive career in Olympic weightlifting was rather short and sweet. But even his brief stay in the sport completely stunned the world with his colossal lifting ability. The Soviet media called him the ""Wonder of Nature"". During Team USA's visit to Moscow in the 1950s, crowds of local weightlifting experts and fans followed Anderson in amazement of his impressive strength and appearance. In many ways, it was Anderson's squats and legs strength that drastically changed the Soviet methodology of the time.
Anderson was a devout Christian and, after finishing his sports career, he opened the Paul Anderson Youth Home to delinquent and orphaned children in Vidalia, Georgia, USA. This ministry has served approximately 2000 young people between the ages of sixteen and twenty-one since its inception in 1961. In addition to over five hundred speaking fund-raising engagements for his youth home, Anderson authored three books, numerous newspaper and magazine articles, poems, weightlifting courses, and a nationally syndicated newspaper column.