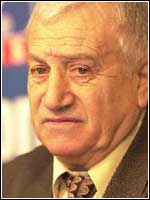 Ivan Abadzhiev is one of the most successful and prominent coaches in the history of Olympic weightlifting. He is the author of the famous Bulgarian training methodology that is currently widely followed by many elite lifters and coaches.
Before turning into an elite coach, Abadzhiev had a decent and respectful lifting career with the national Team Bulgaria. He was the first Bulgarian weightlifter to be awarded with the top national title of the Merited Master of Sports after he won a silver medal at the 1957 World Championship.
However, it was coaching that brought Abadzhiev to the level of unprecedented admiration of the weightlifting experts. Abadzhev coached the national team in 1969 - 1989 and 1997 - 2000 and was able to bring it from a mediocre standing to the elite super power of Olympic weightlifting.
Abadhiev's training system was based on high intensity sessions. Unlike the traditional Russian training methodology, Abadzhiev's sessions included mostly only classic Olympic lifts performed with lower repetitions but on maximum weights. Supporting lifts were limited predominately to squats. Abadzhiev's method contradicted major established views on training process and brought him as many followers as opponents. And, of course, it was proved to work at the time based on the medal track of Abadzhiev's students.
During his two decades of work with the national Team Bulgaria and with Team Turkey (in the late 1990s), Abadzhiev prepared 12 Olympic champions, 13 silver Olympic medalists, 4 bronze Olympic medalists, 57 world champions, 64 European champions.