Lee James (1953-2023)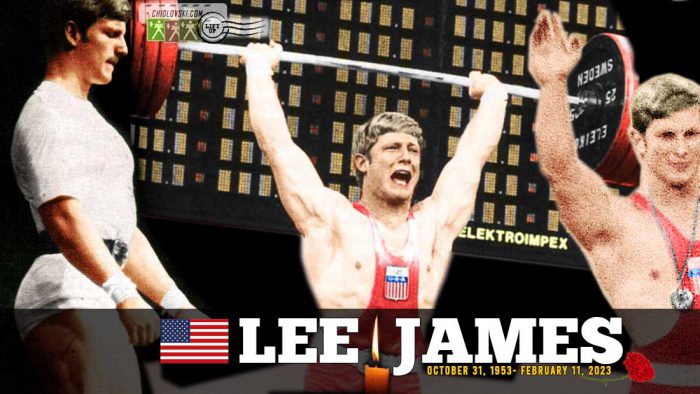 February 11, 2023, Raleigh, NC, USA – Sad news came from North Carolina. Legendary American weightlifter, Olympic vice champion, Lee James passed away at 69. So far, it is known that he fell from a roof and suffered a head injury.
Lee James was a true legend of U.S. and World weightlifting and an inspiration for many generations of American Olympic weightlifters after his outstanding performance at the 1976 Summer Olympics.
In 1976, Lee James won a silver Olympic medal in Montreal. It was totally unexpected when he finished right behind legendary David Rigert of Team CCCP. It was unexpected and it was totally beautiful. To me the story of Lee James is a story of American Weightlifting Cinderella Man.
Two years before the 1976 Summer Olympics, Lee James took the 4th place in the light heavyweight class at his first U.S. National Championship in 1974. Nothing looked promising in him at that time. His technique, a very important component of being an elite athlete, was rough. He looked more like a newbie than an Olympic hopeful. The next year, Lee won a silver medal in the 82.5kg class at the 1975 Nationals. He made it to the national Team USA. He went on to win a gold medal at the 1975 Pan American Games in Mexico City and took the 13th place at the 1975 Worlds in Moscow.
In 1976, James Lee went though a weight class upgrade and moved up to the middle heavyweight category. With a clock ticking before the beginning of the 1976 Summer Olympics, it was a huge decision. James Lee won his first national title and was selected to represent the United States in Montreal.
We all know what happened there. James Lee brought home a beautiful, shinning and well-deserved silver medal. James' heroics in 1976 became a true inspiration for generations of U.S. weightlifters to come. Because of the injuries, he missed the whole year of 1977  and had an amazing comeback in 1978. He won the U.S. National Championship, set an American Record in the snatch but he was injured again preparing for the 1978 World Championship. He retired from competitive weightlifting shortly afterwards.
Needless to say, Lee James was a truly amazing athlete besides weightlifting. He mastered karate, scuba diving, cave diving, flying, CrossFit and more.
My condolences to the family and friends of Lee James.
On a personal level, I will never forget my conversations with Lee James. He shared many memories and thoughts about this sport, about the once famous York Barbell Club and its legendary residents.
Rest in Peace, Lee James!