1972-2022, Personalities: Nikolay Ozerov (USSR)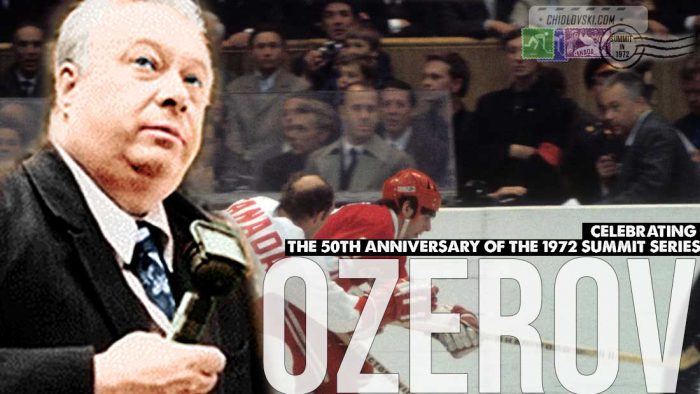 Ozerov
by Arthur Chidlovski (2002)
PROFILE:
Nikolay Ozerov (1922-1997),
USSR Merited Sports Master in tennis,
People's Artist of the Russian Federation Award.
Sports Career:
– One of the top Soviet tennis players in 1939-1958
– At 12, won Moscow Tennis Championship
– Won over 170 tennis tournaments including national championships and international competotions.
Career in Theater:
– Graduated from GITIS, top Russian theater school
– Played in over 20 plays on the stage of the Stanislavsky's Art Theater
Career in Broadcasting:
– Was one of the most famous sports TV and radio broadcasters from the early 1950s to mid 1980s
– Made TV and radio reports on soccer and hockey events from 49 countries.
Nikolay OZEROV was the legend of the Soviet sports broadcasting. For millions of Russian hockey fans, he was what Foster Hewitt was for the Canadian viewers and listeners. Ozerov never played hockey. Although he was a star tennis player in the 1940s, only a few historians associate his name with tennis. He acted professionally on the stage of legendary Moscow Arts Theater but very few people remember him as an actor. But for those who watched hockey on TV from 1950s to 1980s , Ozerov's name can't be separated from hockey. In a way, he was Mr. Hockey or, keeping up with the terminology of his prime time in broadcasting, Comrade Hockey. During these glorious decades in Soviet hockey, generations of viewers watched his hockey reports from Moscow and Toronto, Voskresensk and Helsinki, Montreal and Stockholm, Prague and Kiev.
Ozerov's reports from the 1972 Summit belong to the classics of TV broadcasting. I am not sure if it was the drama of the Series, the level of hockey shown in the Summit or the passion in Ozerov's voice that made these games in September 1972 one of the best sports spectacles ever shown on the Soviet TV.
When the Soviets won the first game in Montreal, Ozerov said that the "myth of unbeatable self-praised Canadian hockey professionals is over now." I was just a little kid at that time and watched many games after the Summit, but this phrase by Ozerov is still in my memory.
The difference between the Soviet and Canadian styles was obvious. "We don't need this kinda hockey!" This is another saying from Ozerov's reports in 1972. Although it was said in regard to the Team Canada's tough and sometimes brutal by the European standards hockey, the phrase itself went well beyond hockey.
Ozerov was not a comedian but it was his entertaining reports that made the whole nation laugh on his phrases and sometimes mistakes. In 1974, legendary Gordy Howe and Bobby Hull played in the Team Canada (WHA) vs. Team USSR Summit.
"Gordy Howe is a legend of Canadian hockey," said Ozerov. "He is 46, has over 1000 scars on his body, his hair is gray but it's still not enough for him. Life is expensive and Howe needs money. He plays himself and forces his children to play too. His sons, Mark and Marty, are playing for Team Canada too."
"Canadian hockey pros don't wear helmets. They wear nothing. The only one who wears anything is Bobby Hull. He wears a wig." Almost 30 years passed since Ozerov said these lines, but I still remember wondering what might happen to the Hull's wig in the game or counting Howe's 1000 scars.
Making my memory trips to the 1972 Summit, I always think about Ozerov. I guess it's not just me. He was an integral part of Soviet hockey of that time.