Yury Zaytsev Wins the USSR Cup in Frunze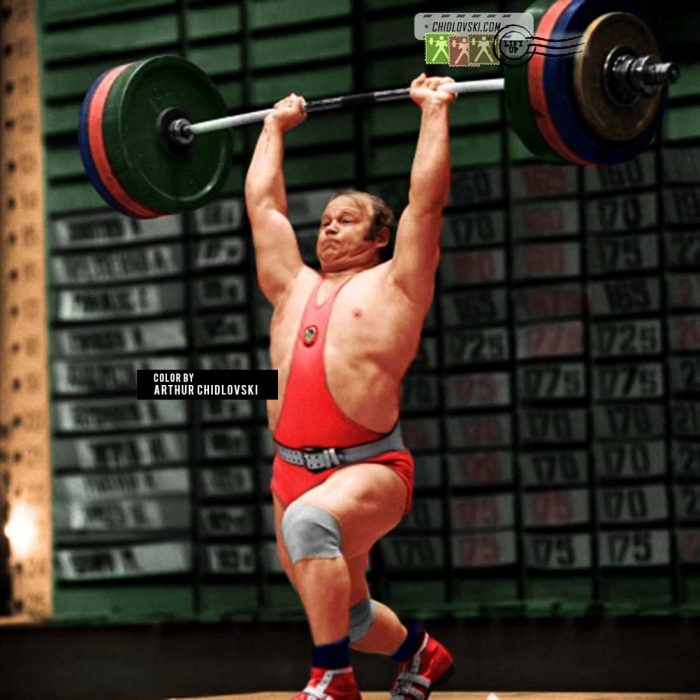 History in Color:
December 16, 1979, Frunze, Kyrgyzstan, USSR – Olympic champion Yury Zaytsev, heavyweight of Zenith Dnepropetrovsk, Ukraine, wins the 1979 USSR Cup with a 407.5kg (170+237.5) total in the 110kg weight class.
It was the 4th national cup won Yury Zaytsev. He also won the gold at the USSR Championships in clean-and jerk.
One of the strongest Soviet heavyweights (110kg) of the 1970s, Zaytsev competed for Enbek of Alma Ata, Kazakhstan and, then,  for Zenith and Army of Dnepropetrovsk, Ukraine. He was a 2x World champion, 2x European champion, USSR Champion and 4x winner of the USSR Cup. At the 1976 Summer Olympics, he was awarded with the gold medal in the 110kg weightclass. Zaytsev authored several world records and his personal best in total was 410kg (172.5+237.5; Podolsk, March 9, 1980) in the 110kg class.