Weightlifting Team in the Olympic Village in Tokyo, Japan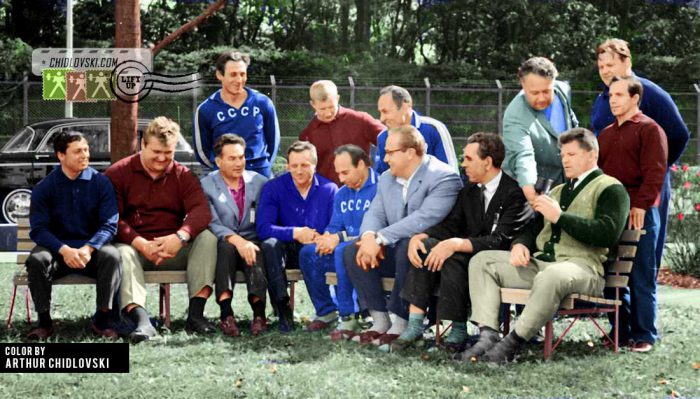 Tokyo, Japan, October 1964, – Team CCCP Weightlifting is being interviewed by famous Soviet media personalities in the 1964 Olympic village in Tokyo.
Front row (left to right):
Vladimir Kaplunov (67.5kg), Leonid Zhabotinsky (90+kg), Dmitry Ivanov (The Soviet Sports Daily, reporter), Rudolf Plyukfelder (82.5кg), Аrkady Vorobyev (head coach), Yury Vlasov (90+кg), Reporter (?), Vladimir Golovanov (90кg);
Back row (left to right):
Massage Therapist (?), Viktor Kurentsov (75кg), Suren Bogdasarov (coach), Nikolay Ozerov (TV broadcaster), Alexey Vakhonin (56kg), Alexey Medvedev (coach)
In a few weeks, four of these athletes will become Olympic champions (see below) But at the moment, it's not known. No need for a special "Smile!" call. All participants seems to be in a good and happy mood. They are here in Tokyo to compete for Olympic gold!
Note: To view a complete list of the winners in the weight classes above,
please follow the link associated with the weight class.