Legendary Jaakko Kailajarvi Celebrates his 80th Birthday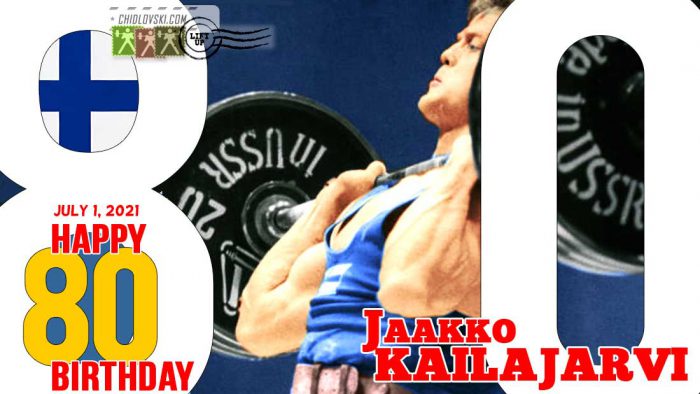 July 1, 2021 – Legend of Finnish and World weightlifting, 4x Olympian Jaakko Kailajarvi of Tampere, Finland turns 80 today!
By all means, distinguished athlete and coach, Jaakko Kailajarvi is one of the key personalities in the history of Olympic weightlifting of Finland. He was one of the first brightest weightlifting stars of Finland in the 1960s and early 1970s and competed competed for his country at four Summer Olympics – in Tokyo (1964), Mexico City (1968), Munich (1972) and Montreal (1976). Most definitely, Jaakko Kailajarvi belonged to the group of athletes that were energizing the crowd with fun and excitement when they were entering the competition platform.
And of course, on July 1, 1962, on the day of his 21st birthday, Jaakko authored the first world record ever set by a weightlifter of Finland. So, besides celebrating the 80th Birthday of Jaakko Kailajarvi, we celebrate the anniversary of the first Finnish World record today! There were 33 more world records set by men's Team Finland afterwards. There are seven world record holders in the history of men's Olympic weightlifting in Finland since then – Juhani AVELLAN, Jaakko KAILAJARVI, Kaarlo KANGASNIEMI, Kauko KANGASNIEMI, Kalevi LAHDENRANTA, Mauno LINDROOS, and Juhani MURSU. And the 1st world record was set by Jaakko Kailajarvi exactly 59 years ago – in Erajarvi in 1962.
Jaakko Kailajarvi is 80 today and we wish him a very Happy Birthday! Best wishes and many more celebrations to come.