Alexander Kurlovich (Belarus, USSR): The Last Champion of the USSR (1991)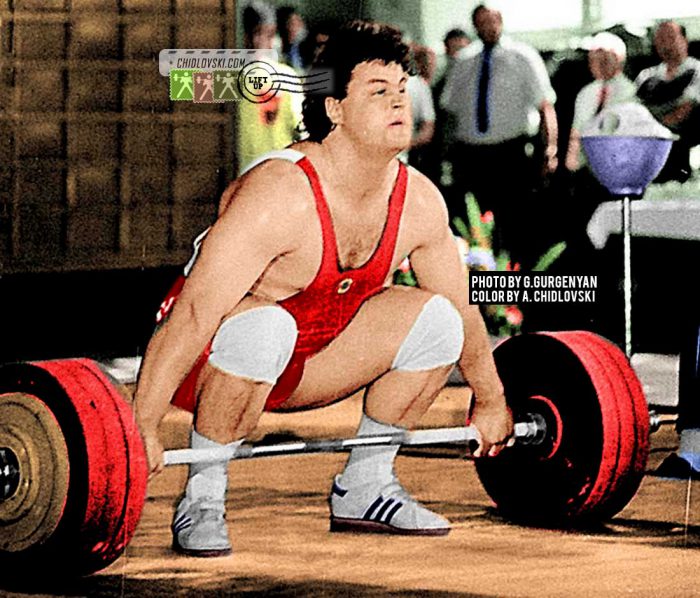 History in Color:
August 16, 1991, Donetsk, Ukraine – 30-year old super heavyweight Alexander Kurlovich of Grodno, Belarus, USSR competes in the 110+kg weight class at the 1991 USSR Spartakiade and 1991 USSR Spartakiade in Donetsk.
After 1991, there were no more USSR and no more USSR championships held.
No more C.C.C.P.  The end of the era.
And Alexander Kurlovich won the last gold medals at the USSR Championships:
1991 Championships of the USSR
Location: Donetsk Ukraine
Weight Class: Super Heavyweight  [110+ kg]
Rank
Athlete
Results (kg)
1
Alexander  KURLOVICH,   Belorussia
455 = 207.5+247.5
2
Sergey  DIDYK,   Ukraine
427.5 = 187.5+240
3
Sergey  NAGIRNY,   Ukraine
425 = 190+235
Alexander Kurlovich (1961-2018) was one of all-time best athletes in a super heavyweight class. A 3-time Olympian and 2x Olympic champion,  Kurlovich competed at three Summer Olympics in 1988 (for the USSR), 1992 (for the Unified Team) and 1996 (for Belarus). Alexander won gold Olympic medals in the 110+kg class in Seoul (1988) and Barcelona (1992).
A native of Belorussia, Kurlovitch won gold medals at 4 World Championships (1987, 1989, 1991, 1994), 3 European Championships (1989, 1990) and 2 USSR Championships (1983, 1991). In his career, Alexander set 12 world records in a super heavyweight class.