Jim Bradford (USA) Wins the Word Press Contest in Warsaw (1959)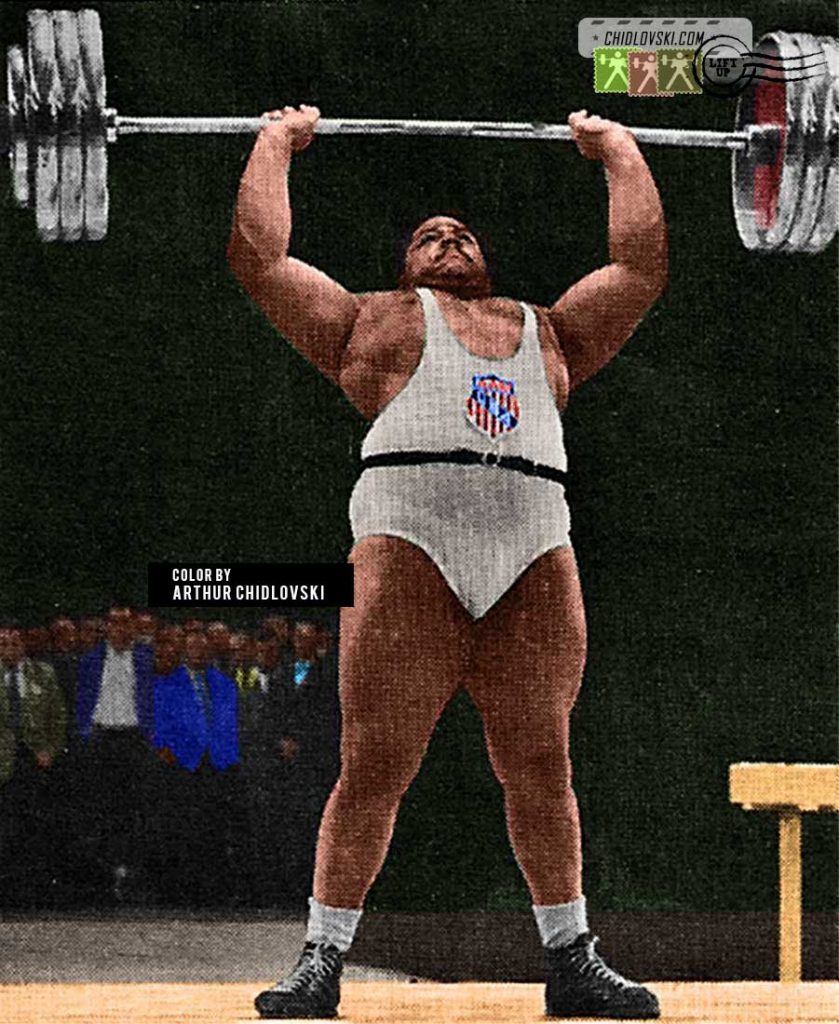 History in Color:
October 4, 1959, Warsaw, Poland – U.S. super heavyweight James Bradford of Washington, DC, USA wins the press competition with a 170kg lift in the 90+kg class at the 1959 World Championships in Warsaw.
In Warsaw, Bradford was 30 and his bodyweight was 130kg. After pressing 170kg, he took a lead in the tournament with a 10kg advantage over a 23-year old Soviet rookie Yury Vlasov who finished with 160kg in the press contest. However, Vlasov went on with a world record in snatch and outlifted Bradford by 15kg in clean-and-jerk and, for the first time in his career, reached a magic 500kg in total.
By the end of the night, Yury Vlasov won his first World title with a 500kg (160+147.5+192.5) and Jim Bradford brought home a silver with 492.5kg (170+145+177.5).
---
James "Jim" Bradford (1928-2013) was one of the strongest U.S. and world heavyweights in the 1950s. He was a 2x U.S. Olympian and 2x Olympic vice champion at the Summer Olympics in Helsinki (1952) and in Rome (1960).
Jim Bradford was a 4x World vice champion (1951, 1954, 1955, 1959). He also represented Team USA in the 90+kg class at the 1958 United States vs. the Soviet Union weightlifting series where he faced Soviet super heavyweight Alexey Medvedev.
On the national level, Bradford won the AAU heavyweight titles in 1960 and 1961.
Jim Bradford was ranked as No. 163 in the All Time Club 500 list of the best weightlifters in the world that competed during the Olympic press era. His best total was 512.5kg (180+150+182.5) at the 1960 Summer Olympics in Rome on September 10, 1960.