Moscow Wins the 1946 USSR Team Championships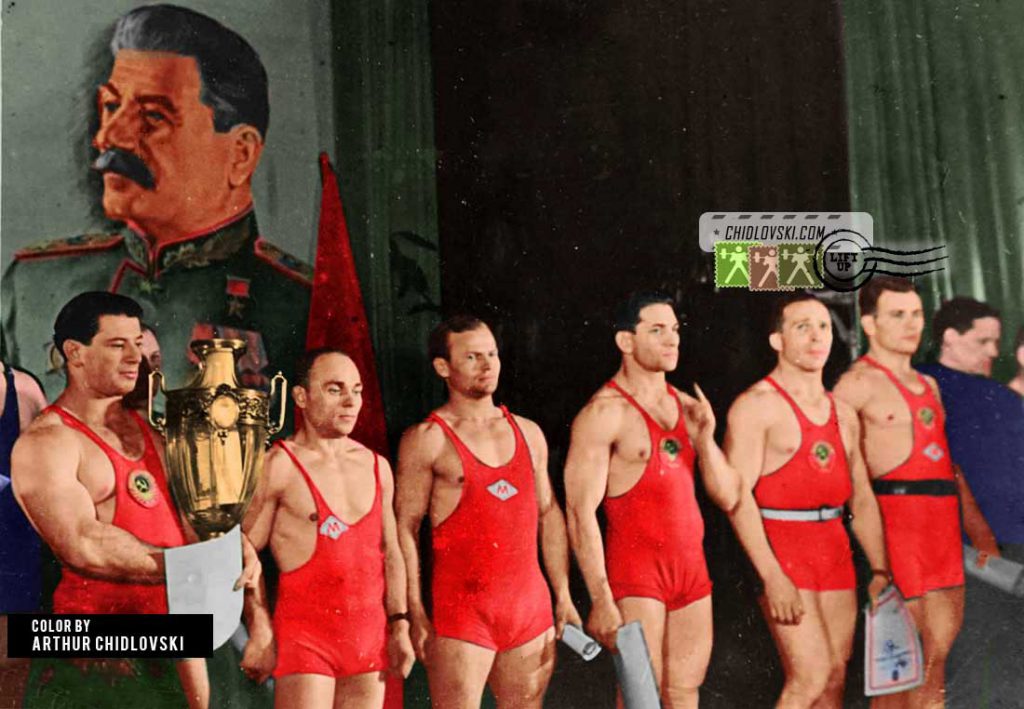 December 24, 1946, Gorky, Russia, USSR –Weightlifting Team Moscow wins the 1st place at the 1946 USSR Team Championships in Gorky (left to right):
Team Captain Grigory Novak (Soviet Wings, Moscow, 82.5kg), Mitrofan Kosarev (Stroitel, Moscow, 56kg), V. Khvostov (Moscow, 60kg), Israil Mekhanik (Lokomotiv, Moscow, 67.5kg),  Nikolay Shatov(Dynamo, Moscow, 75kg) and Alexander Bozhko (Army, Moscow, 82.5kg)
There were teams of Moscow, Leningrad and 13 republics of the USSR (all but Lithuania, Tadzhikistan and Moldavia) that competed at the 1946 USSR Team Championships.
The top 3 were the following teams:
Moscow
Ukraine
Leningrad
The 1946 USSR Team Championships was a closing competition event in a remarkable year of 1946 that had a special place on a history timeline of national weightlifting. The USSR was accepted to the international weightlifting federation and for the first time ever competed at the World Championships in Paris. Grigory Novak became the first Soviet World champion after winning the World title in France.