Coaches and Athletes: Akop Faradzhan and Vartan Militosyan (Armenia, USSR)
November 2, 2020 – Outstanding Soviet Armenian athlete and coach Akop Faradzhan (1930-1996) would have turned 90 today. Happy Birthday and Rest in Peace to a true Maestro of Olympic weightlifting!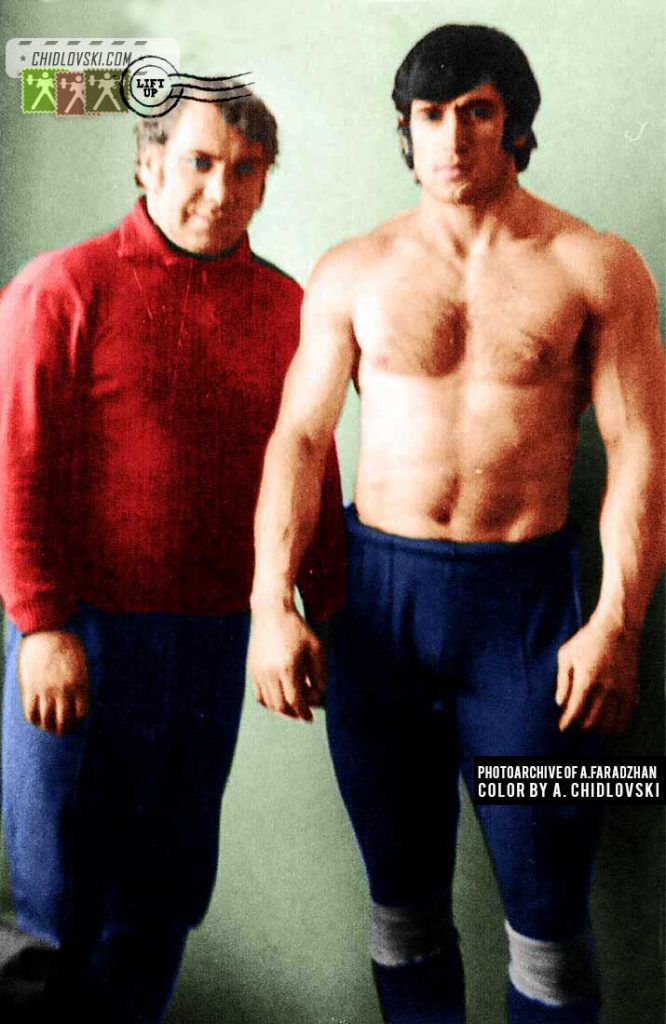 The History in Color cover photo features coach Akop Faradzhan (left) and his student Vartan Militosyan (both of Armenia, USSR) in the training hall in the mid 1970s. Both were significant personalities in the history of Olympic weightlifting.
Akop Faradzhan (1930-1996) was an outstanding athlete of the 1950s who then became one of the best personal coach and champions maker after retiring from competitive weightlifting. As a lifter, he was known as a slick technician of his time. He won silver medals at the World and European Championships in Warsaw (1959) and a gold medals at the 1959 USSR Spatakiade and USSR Championships. As a coach, he became famous for his success in working one-on-one with athletes. Among his students were such world class champions as Valery Yakubovsky and Vartan Militosyan.
Vartan Militosyan (1950-2015) won a silver medal in the 75kg class at the 1976 Summer Olympics in Montreal. He was a 2x World vice champion, 2x European Champion, USSR Cup Winner and USSR Championships medalist in the middleweight. He authored 4 world records in the 1970s. As a coach, Vartan Militisyan trained his student and nephew Israel Militosyan and brought him to numerous top international level awards including the gold medal in the 67.5kg division at the 1988 Summer Olympics in Barcelona.