Vern Barberis (Australia): 1956 Summer Olympics in Melbourne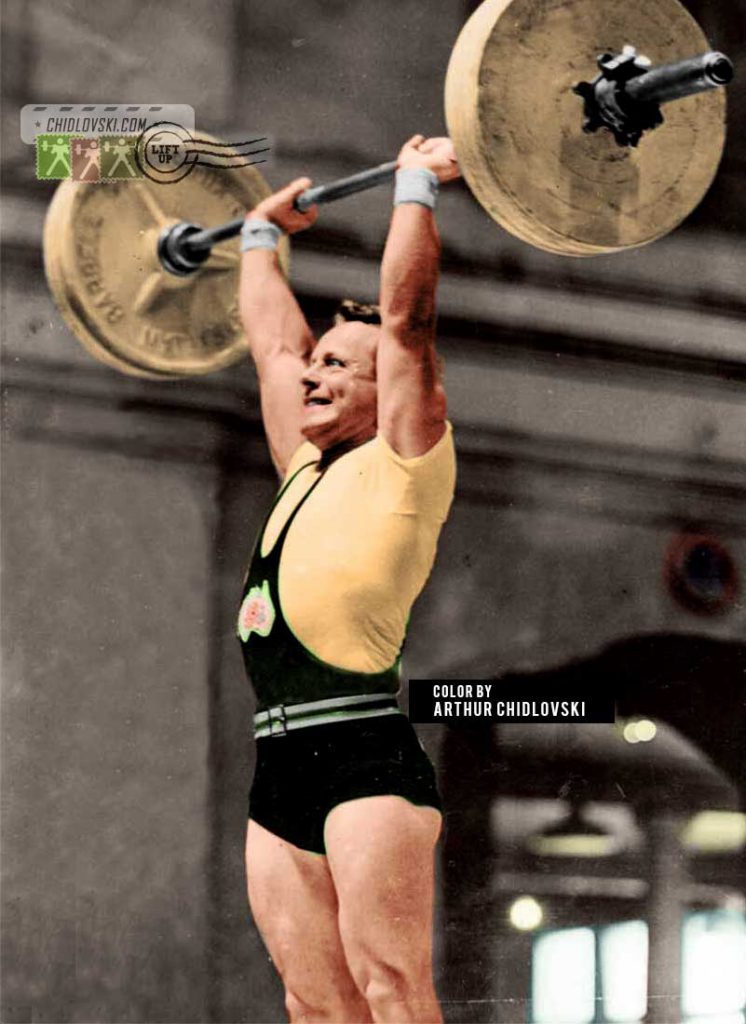 History in Color:
November 24, 1956, Melbourne, Australia – 28-year old lightweight Vern Barberis of Australia makes a 105kg press in front of the home crowd at the Exhibition Building, Melbourne, Victoria during the 67.5kg weight class tournament at the 1956 Summer Olympics.
It was the last competition for the legend of Australian weightlifting Verdi "Vern" Barberis (1928-2005).
Vern Barberis represented his home country at two Summer Olympics – in Helsinki (1952) and Melbourne (1956). At the 1952 Olympics he won a bronze medal in the lightweight division and became the first ever weightlifter of Australia to win an Olympic medal. Four years later he finished his career on the competition platform with the 11th place in the 67.5kg class at the 1956 Olympics in Melbourne.
In addition to his outstanding performance at the Olympics, Barberis won a bronze medal at the 1950 British Empire (Commonwealth) Games in Auckland and, then, a gold medal at the 1954 Commonwealth Games in Vancouver. He placed 4th at the 1953 World Championships.
Besides his impressive performance in the international Olympic weightlifting, Vern Barberis won 7 national titles in Australia. He was the first Australian lightweight to clean-and-jerk over 300 lb (140 kg) and set numerous Australian records that stood for many years.
Being a graduate of the University of Melbourne, Barberis worked as a school teacher and principal. After retiring as a competitive athlete, he continued to train weightlifters. Between 1969 and 1971, Vern Barberis served as the President of the Australian Weightlifting Federation and later was inducted into the AWF Hall of Fame.