One-Hand Lift by Adolf Wagner (Germany) in 1933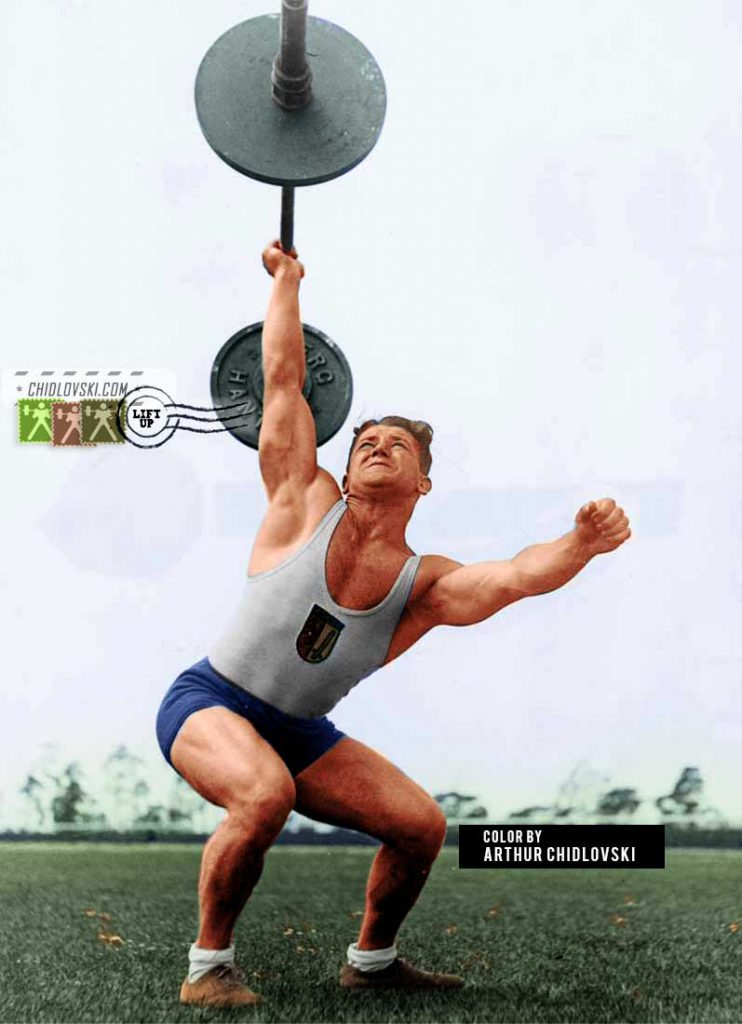 History in Color:
Germany, 1933 – German middleweight Adolf Wagner of Essen, Nordrhein-Westfalen, Germany performs a one-hand lift during an outdoor training session.
In the 1930s, by many accounts, weightlifting of Germany was the most advanced in the world. German athletes were in a distinct lead in terms of the medals they won in the major international tournaments as well as the innovative approach in techniques and training in Olympic weightlifting of the time.
Adolf Wagner (1911-1984) was one of the key German athletes of the 1930s. He was selected to represent his country at the 1936 Summer Olympics in Berlin and won a bronze medal in the 75kg weight class – placing behind his teammate Rudolf Ismayr (silver) and amazing Egyptian champion Khadr Sayed El Touni (gold).
In addition to the Olympics, Wagner had a distinguished career track in the international competitions. He won the bronze at the 1933 European Championships and, at the World Championships, he won a silver medal in Paris (1937) and then became a World champion in 1938 in Wien at the last World Championships before the World War II.
In addition, Wagner won several German national titles (1934, 1936, 1938, 1941) and after World War II (1949, 1951-52). At 41, he tried to qualify for the 1952 Summer Olympics in Helsinki Games, but was not successful. In 1954, he was appointed as the national coach of the German weightlifting team. At that time, as a result of the 12-year abstinence from international sports (1939-1951), German weightlifters had lost their lead in this sport and his contribution to putting Germany back to the top international level in weightlifting took place rather at the early stage of this comeback.
His son Paul Adolf Wagner was a track sprinter and German Champion in the sprint relay, and later he was a national sprint coach.