Boris Pavlov: USSR Spartakiade in 1971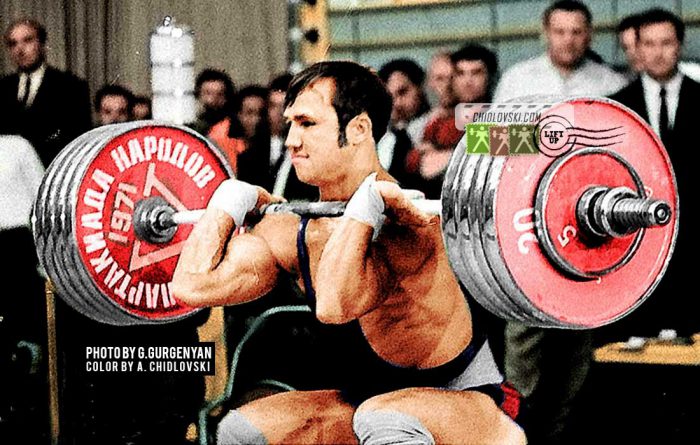 July 21, 1971, Moscow, Russia – 24-year old light heavyweight Boris Pavlov of the Spartak Donetsk club is competing in the 82.5kg class at the 1971 USSR Championships and Spartakiade at the CSKA Weightlifting Arena in Moscow.
Boris Pavlov (1947-2008) of Donetsk, Ukraine was the World Champion (1971), European Champion (1972) and USSR Champion (1972) in the light heavyweight class (82.5kg). His strongest lift was clean-and-jerk. He set 6 world records – 3 in cj and 3 in total.
The 82.5 weight class had a long list of international level athletes on the Team CCCP Weightlifting at the time Pavlov competed in this sport. Valery Shary of Minsk, Gennady Ivanchenko of Riga, Vladimir Ryzhenkov of Moscow, Arnold Golubovich of Minsk – these are just a few world class weightlifters that were opponents of Pavlov in the battle to represent the country in the international competitions.
By the end of the night of the 1971 USSR Championships in Moscow (on the cover photo), Pavlov finished with a 490kg (165+140+185) total. There were 3 other athletes that reached 490kg total. Pavlov's bodyweight was lighter and and he won a bronze medal. It was his first medal won at the USSR Championships.
Note: The results above include the following results (kg)
TOTAL = PRESS + SNATCH + CLEAN-AND-JERK