Yury Zaytsev: Montreal (1976)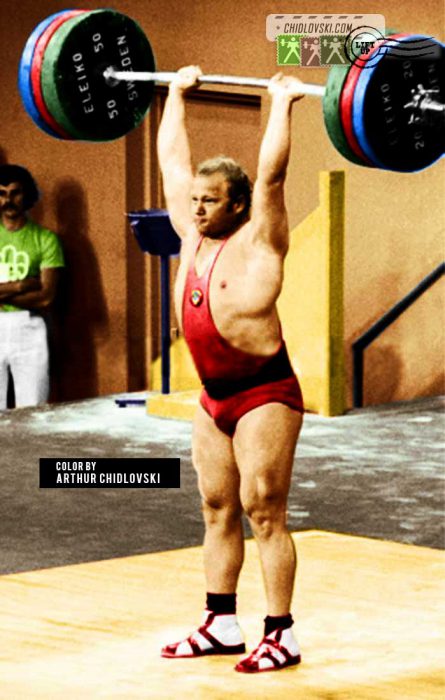 July 27, 1976, Montreal, Canada – 25-year old Soviet heavyweight Yury Zaytsev performs a clean-and-jerk lift in the 110kg weight class at the 1976 Summer Olympics in Montreal.
By the end of the night, Yury Zaytsev finished with the second best total of 385kg (165+220). Valentin Khristov of Bulgaria reached the 400kg (175+ 225) total but he failed the drug test after the competitions and the title of the Olympic champion was awarded to Yury Zaytsev of the USSR.
---
Yury Zaytsev (born in 1951) was one of the strongest Soviet heavyweights (110kg) of the 1970s. He competed for Enbek of Temirtau, Kazakhstan and for Zenith and Army Club of Dnepropetrovsk, Ukraine.
Zaytsev was a 2x World champion (1976, 1978), 2x European champion (1978, 1979), USSR Champion (1976) and 4x winner of the USSR Cup (1974, 1976, 1977, 1979). At the 1976 Summer Olympics Zaytsev became an Olympic champion in the 110kg weight class.
Yury Zaytsev set 2 world records – both in the clean-and-jerk lift.