Ivan Abadzhiev and Atanas Kirov: Moscow, 1975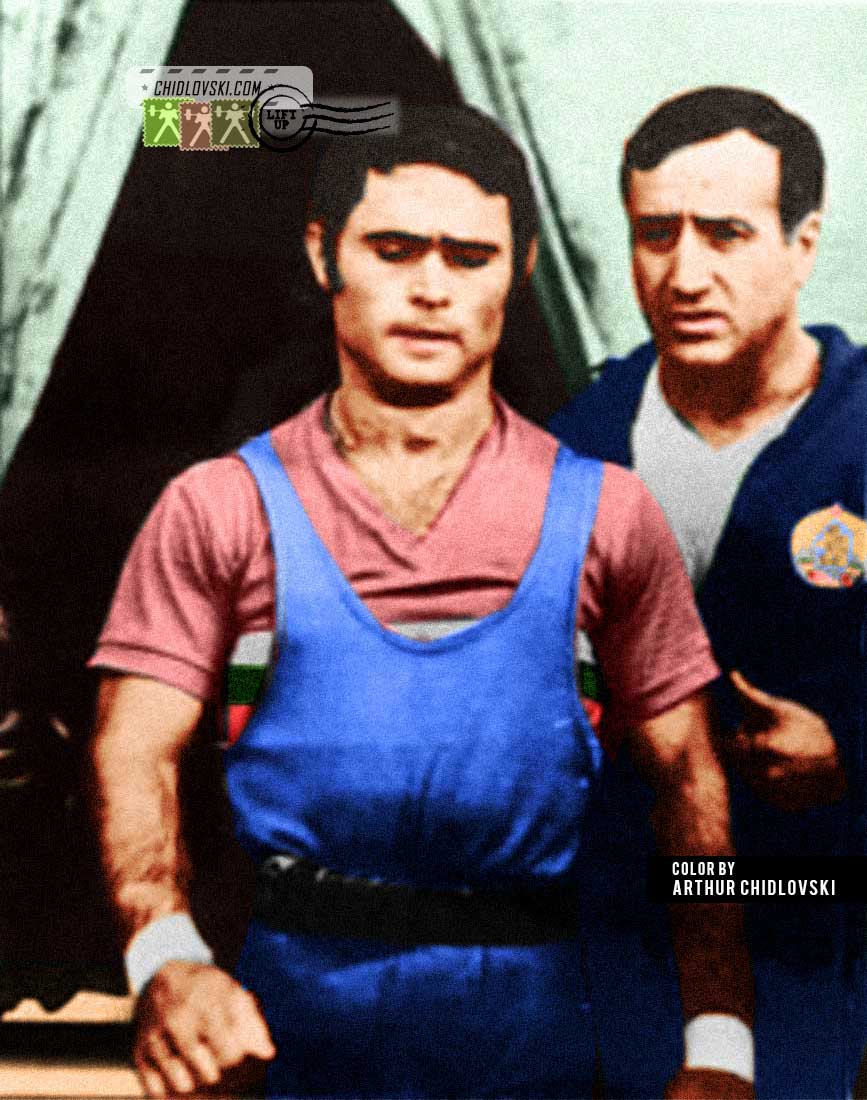 History in Color:
September 16, 1975, Moscow, Russia – Team Bulgaria head coach Ivan Abadzhiev prepares bantamweight Atanas Kirov for his next lift in the 56kg class at the 1975 World Championships in Moscow.
Both Abadzhiev and Kirov were legends of Bulgarian and World weightlifting. Both were milestone athletes in the history of this sport in their native Bulgaria. Ivan Abazhev was the first Bulgarian weightlifter to win a medal at the World Championships (Tehran, 1957, silver) and Atanas Kirov was the first one to win a European gold medal for Bulgaria (Warsaw, 1969).
At the time of the 1975 World Championships shown on the cover photo, Adadzhiev was 43 and it was his 6th year as a head coach of the Bulgarian national team. Atanas Kirov was 29 and he won his 3rd and his last World title in Moscow with a 255kg (110+145) total in the bantamweight class.
Overall, in his outstanding career, Kirov won gold medals at the World Championships in 1973, 1974 and 1975,  the Europeans' gold in 1969, 1973, 1974 and 1975 and set 2 world records. He won 9 national titles of Bulgaria.
Ivan Abadzhiev was a brilliant weightlifting coach as well as an outstanding weightlifter. He authored the Bulgarian training methodology and coached Team Bulgaria for over 20 years – from 1969 to 1989 and, then,again from 1997 to 2000.
On a sad note, both Abadzhiev and Kirov died in 2017 at the age of 85 and 70 respectively.