Weightlifting Legends Meet in London (1961)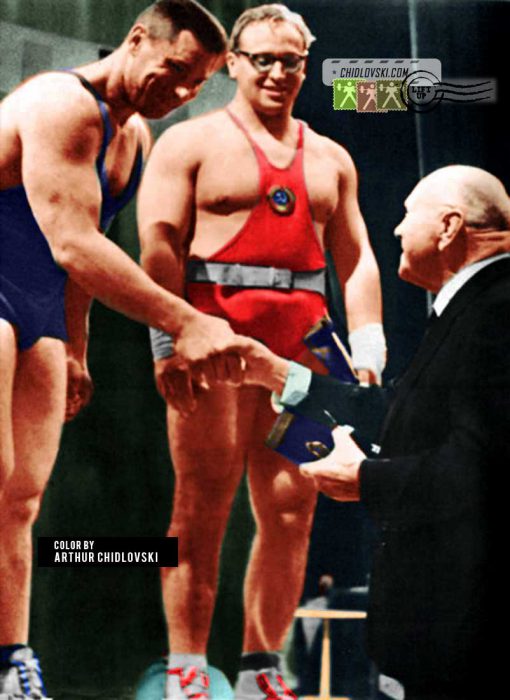 July 29, 1961, London, United Kingdom – Heavyweight champions receive awards of the British Amateur Weight Lifters' Association (BAWLA) invitational tournament at the Scala Theater in London (left to right):
Eino Makinen of Finland,  Yury Vlasov of Russia, USSR and awards presenter, legendary George Hackenschmidt.
This meet was a memorable event in the history of this sport. Yury Vlasov set a world record in clean-and-jerk (206kg) at the tournament.
On the other hand, it was a special day for Yury Vlasov for personal reasons. At the time, Olympic champion of Rome, Yury Vlasov was the strongest man in the world. When he was growing up his hero was George "Georg" Hackenschmidt, one of the biggest milestone figures in the history of weightlifting, strongmen and wrestling sports in the World and in Russia. Being a professional writer, Vlasov wrote many books and essays, conducted extensive research work on his childhood idol.
The BAWLA tournament in London was the first time when Yury Vlasov actually met George Hackenschmidt.
So, here is the moment to remember on the cover photo of our History in Color series, two legends meet on the Scala Theater stage in London. Yury Vlasov is about to receive his award and talk to George Hackenschmidt.
At the moment, Hackenschmidt was 83 and Vlasov was 25.
Two great legends finally met.