Strong and Happy: Soviet Olympic Prospects in Podolsk (1976)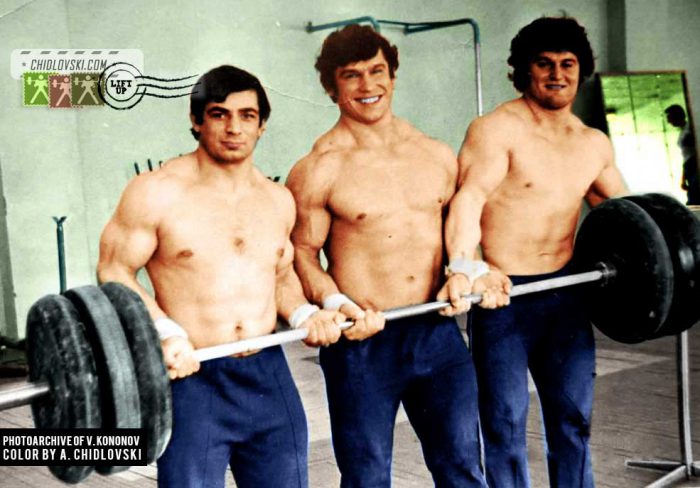 The History in Color series featured several group photos of the Soviet Olympic weightlifters in the training camps of the national Team USSR. This time, we present a cover photo of three strong prospects to the Olympic team in the training camp in Podolsk in 1976 (left to right):
Light heavyweight Vadim Avzhyan, sub heavyweight Vladimir Kononov and middle heavyweight Adam Saydullaev.
All three were strong candidates to the national team. All three were memorable characters in the history of Soviet weightlifting.
Vadim Avzhyan (born in 1949) was a solid light heavyweight. His top performance years were in 1976-1979 when he competed for the Army clubs in Arkhangelsk, Russia and Dnepropetrovsk, Ukraine.
He won the USSR gold medal in clean-and-jerk with 200kg in 1976 and was a USSR vice champion in the 82.5kg class in 1977 and 1978.He also competed for Team USSR at the Friendship Cups where he was second in total in 1977-1979.
Vadim Avzhyan's personal best total was 365kg (162.5 + 202.5) in the light heavyweight class in February 1980 in Lvov.
Vladimir Kononov (born in 1951) of Samara, Russia was an outstanding sub heavyweight athlete of the 1970s.
Being an impressive technician and a powerful lifter, Kononov managed to set 5 world records in his career and stood high in the top listings in the 100kg weight class for numerous years. He won the USSR Cup (1976) and was a USSR vice champion in 1976.
Kononov's personal personal best total was 397.5kg (172.5 + 225) in September 1978 in Dubna.
Adam Saidullaev (born in 1956) competed in the 90kg class for the Army Club of Grozny in his native Chechnya. At the USSR Championships, he won one gold (1977), two silver (1978, 1982) and one bronze (1976) medals. Adam won 3 USSR Cups (1976, 1977, 1981) and held the 4 USSR gold medals in snatch (1976, 1977, 1979, 1981) and 2 in clean-and-jerk (1976, 1981).
Adam Saidullaev was a milestone athlete in the history of Chechen weightlifting. He was the first Chechen weightlifter that found recognition at the international level. At 19, he won a gold medal in the 90kg class at the 1975 World Junior Championships. The next year he won the Jr. World title again at the 1976 World Junior Championships. His totals were 350kg (157.5+192.5) in 1975 and 362.5kg (160+202.5) in 1976.
In 1976, 20-year old Adam Saidullaev became a vice champion of Europe in East Berlin. In his career, Adam set 11 world records – 2 in snatch, 5 in cj and 4 in total.
Saidullaev's personal best total in 90kg class was 412.5kg (185+227.5) set at the 1981 USSR Cup in Donetsk. His personal best in 100kg division was 420kg (185+235) on February 17, 1987 in Lvov.