Louis Hostin: French Style Answer to the Triumph of the Will in Berlin, 1936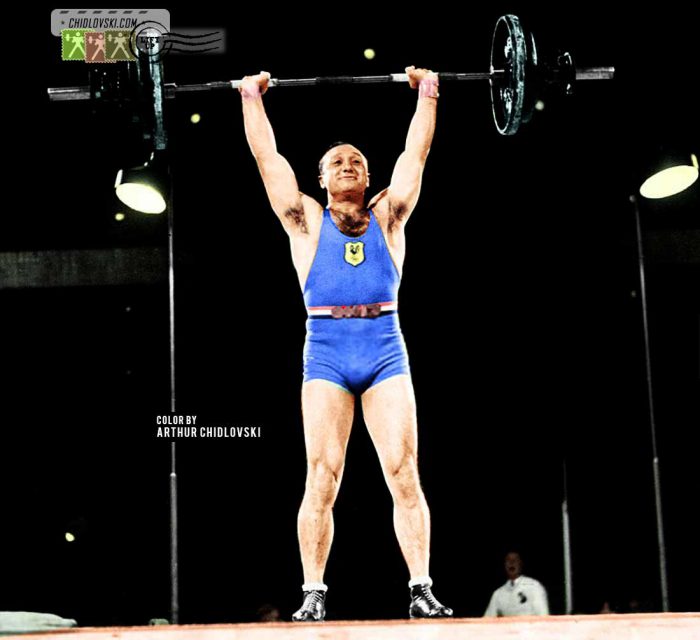 History in Color:
August 3, 1936, Berlin, Germany – Brilliant Louis Hostin, 28-year old  light heavyweight of France, is on his way to win a gold medal in the 82.5kg class at the 1936 Summer Olympics in Berlin.
The 1936 Olympics was the third and the last Olympics for Louis Hostin. He won a silver medal in Amsterdam in 1928 and a gold medal in Los Angeles in 1932.
In Berlin, Hostin faced a heavily favorite German candidate to win Eugene Deutsch, world record holder in the press lift. Hostin went 8 out of 9 that night in Berlin. He set Olympic records in the press, snatch and total and won with a 372.5kg total (110OR + 117.5OR+ 145). The award ceremony was held the next day at the Olympic Stadium in front of Adolf Hitler and it certainly was a spoiler for him to see French champion on the top of the podium.
3x French Olympian Louis Hostin (1908-1998) was the most successful French athlete in the history of Olympic weightlifting. In addition to 2 Olympic golds (1932, 1936) and 1 Olympic silver, Hostin won 2 European titles (1930, 1935) and won 1 silver (1937) and 1 bronze (1938) medals at the World Championships before the World War 2. On the national level, he held 13 consecutive French titles in 1927-1939.
Hostin managed to set 10 world records in his career in Olympic weightlifting.