Zbigniew Kaczmarek (Poland): World Record in East Berlin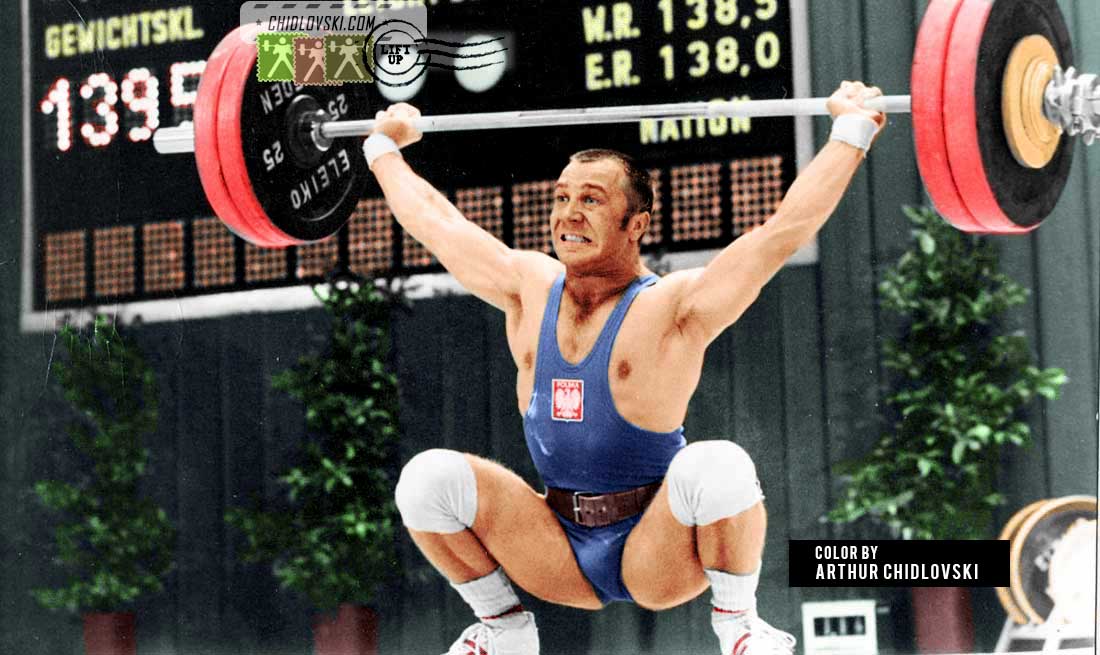 April 6, 1976, East Berlin, GDR – Outstanding Polish lightweight Zbigniew Kaczmarek sets a new snatch world record (139.5kg) in the 67.5kg class at the 1976 European Championships in East Berlin.
Zbigniew Kaczmarek (born in 1946) was one of the most prominent and consistent lightweights in the world in the 1970s.
Kaczmarek was a 3x Polish Olympian. He represented Poland in the 67.5kg class at the Summer Olympics in 1972, 1976 and 1980. He won a bronze Olympic medal in Munich (1972) and had the 1st place in total in Montreal (1976) but failed the drug test and was stripped off the gold medal.
On June 23, 1980, Zbigniew Kaczmarek took the 6th place at his 3rd Olympics in Moscow with an all-time personal best in total – 317.5kg (140+177.5).
In terms of medals and awards,  Kaczmarek belongs to the All-Time Top 5 of Polish Olympic weightlifters. He competed for Team Poland from 1969 to 1980 and, besides 1972 Olympic bronze medal, he won 2 gold (1970, 1971), 3 silver (1974, 1975, 1978) and 3 bronze (1969, 1972, 1977) medals at the World Championships, 1 gold (1976), 5 silver (1971, 1972, 1974, 1975, 1977) and 4 bronze (1969, 1979, 1973, 1978) medals at the European championships.
On the national level, Kaczmarek captured 5 Polish titles (1970, 1972, 1973, 1975, 1977).
Zbigniew Kaczmarek is a world record holder (see the cover photo). He also set 15 Polish national records and remains one of the most decorated Polish Olympic weightlifters of all times.