Joe Di Pietro (USA): World Title and Records in Philadelphia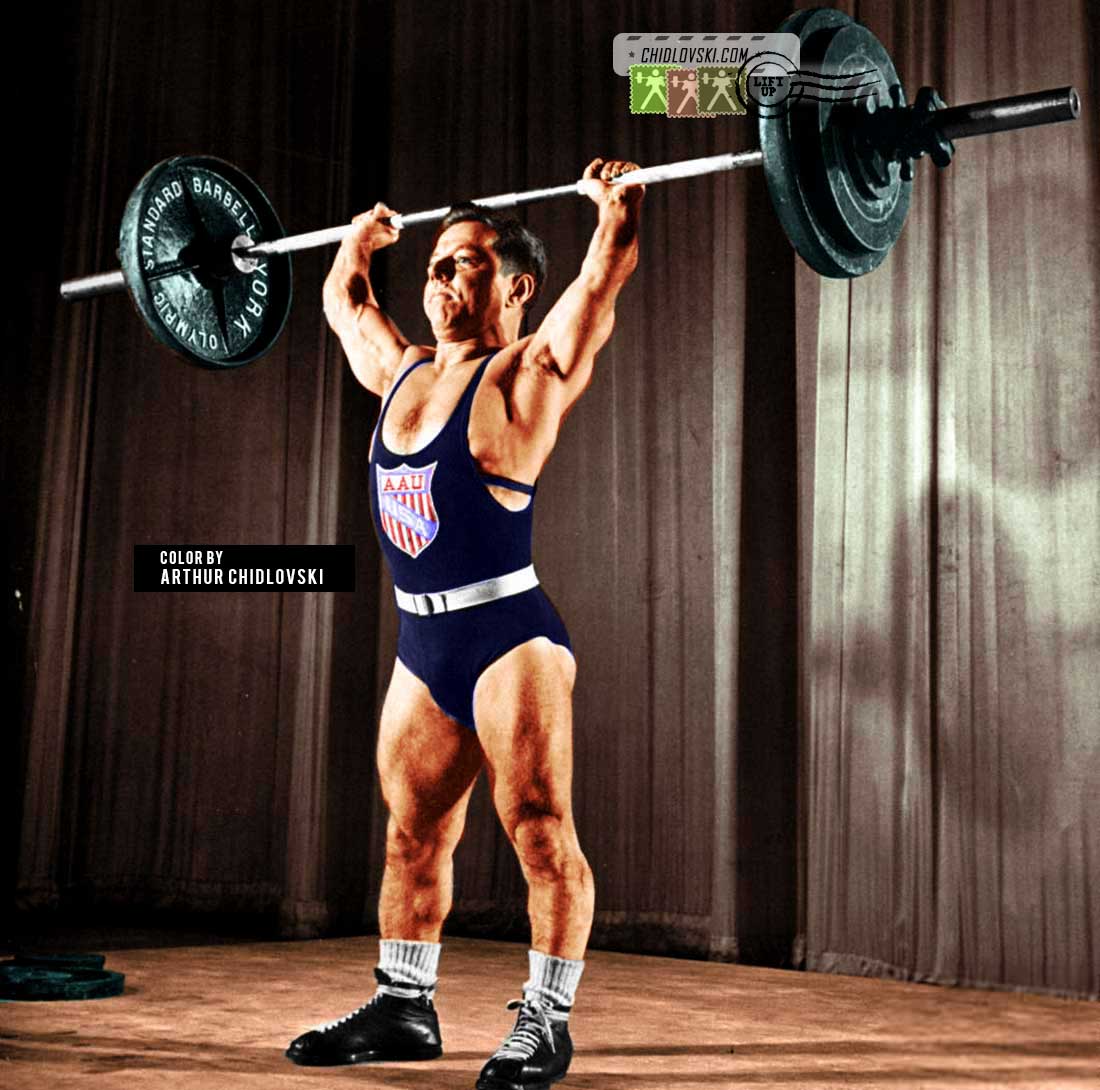 History in Color:
September 26, 1947, Philadelphia, PA, USA – 33-year old bantamweight Joe Di Pietro of Paterson, NJ, USA wins the World title and sets new world records in press (102.5kg), snatch (87.5kg) and total (300kg) in the 56kg class at the 1947 World Championships in Philadelphia.
At the time, Joseph Di Pietro (1914-1999) was 33. At the size of 4'7" 120-pound, he competed for the Bates Barbell Club in Paterson, NJ and in the 1930s he established himself as a distinguished athlete. Due to the World War II, he wasn't exposed to competing in the international tournaments.
In 1947, Joe Di Pietro won the world title with world records in press (102.5kg), snatch (87.5kg) and total (300kg). The press lift was Joe's forte. His arms were too short, the bar barely clearing his head when they were extended and that didn't allow himto fully succeed in the other lifts.
The 1948 Olympics was the first Olympic tournament after the war and Joe was selected to represent the USA in the 56kg weight class. Di Pietro finished first in the press (105 kg), third in the snatch (90 kg) and fifth in the clean-and-jerk (112.5 kilos). His total of 307.5 kg allowed him to edge Julius Creus of Great Britain and his U.S. teammate Rich Tom and to become an Olympic Champion.
Between 1942 and 1951, Joe Di Pietro won nine national titles. He was an Olympic champion (1948), Pan American Games champion (1951) and won gold in 1947 and bronze in 1949 at the World Championships.