David Rigert (USSR): Donetsk, 1973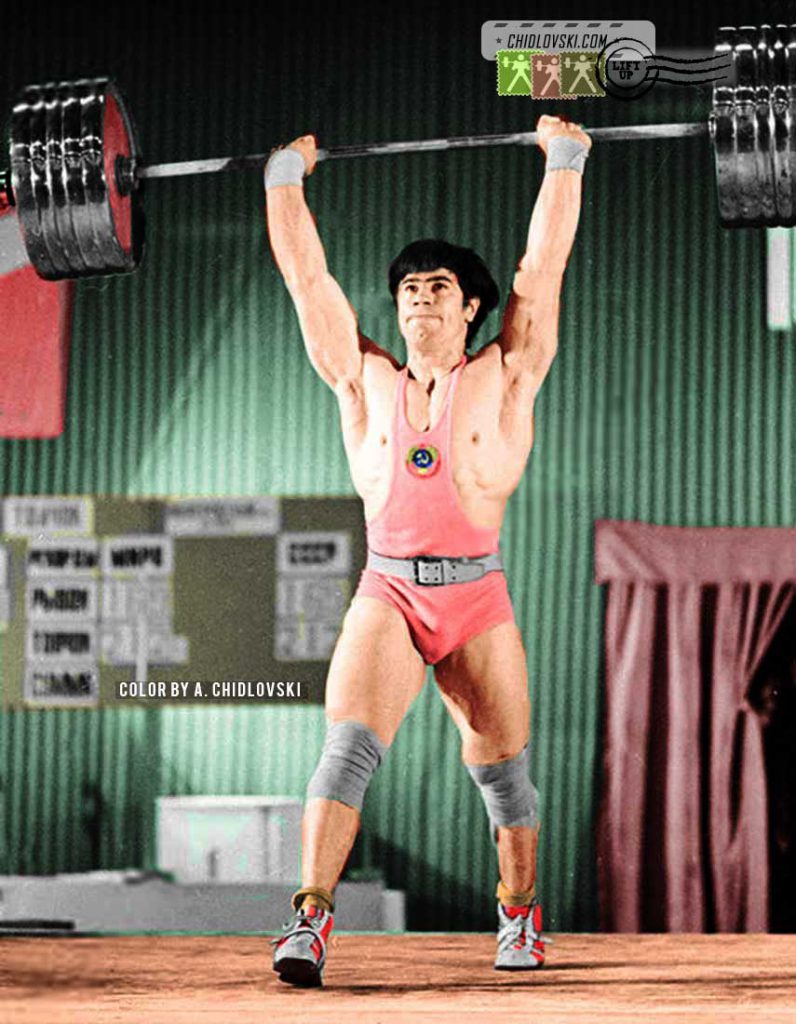 History in Color:
April 28, 1973, Donetsk, Ukraine – Legendary Soviet mid heavyweight David Rigertof Shakhty, Russia competes in the 90kg class at the 1973 USSR Championships in Donetsk.
In Donetsk, 26-year old Rigert won his 2nd USSR title with a 165+210 = 375kg total. Vasily Kolotov of Pervouralsk, Russia and Sergey Poltoratsky of Kiev, Ukraine won silver and bronze medals respectively.
---
Championships of the USSR (1918-1991)
1973 Championship of the USSR
Location: Donetsk Ukraine
Weight Class: Middle Heavyweight  [90 kg]More Info On the 1973 Championship of the USSR
Rank
Athlete
Results (kg)
1
David  RIGERT, Trud  Shakhty
375 = 165+210
2
Vasily  KOLOTOV, Trud  Pervouralsk
365 = 162.5+202.5
3
Sergey  POLTORATSKY, Army  Kiev
352.5 = 152.5+200
4
Yevgeny  PENKOVSKY,
352.5 = 150+202.5
5
Gennady  KHVAN,
352.5 = 157.5+195
6
Boris  SELITSKY,
345 = 150+195
7
Alexander  KIDYAEV,
345 = 152.5+192.5
8
Stanislav  TEREKHOV,
340 = 145+195
9
Bronis  MACHERNIS,
335 = 150+185
10
Alexander  LESHOV,
330 = 145+185
11
Dmitry  YURAGO,
330 = 145+185
12
Alexander  ORLOV,
320 = 140+180
13
Ruslan  TARKIL,
14
Anany  LARIONOV,
15
Vladimir  PAKHOMOV,
Note: The results above include the following results (kg)
TOTAL = SNATCH + CLEAN-AND-JERK