Eesti Tugev: Pioneers of Estonian Olympic Weightlifting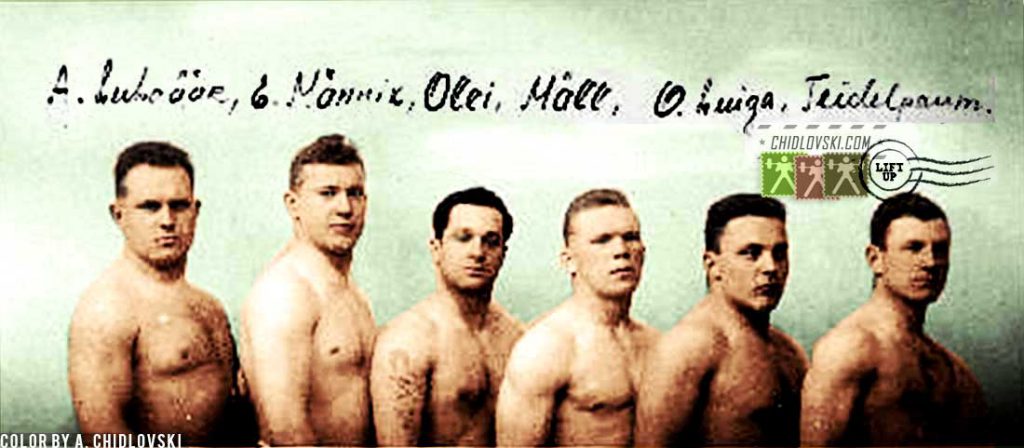 The History in Color presents our version of the vintage group shot of the pioneers of Olympic weightlifting in Estonia.
The first on the left is the legendary champion Arnold Luhaaar (1905-1965), one of the strongest Olympic weightlifters of the 1920s and 1930s. He competed for Estonia at 2 Summer Olympics before the beginning of World War II.
In 1928, he won a silver Olympic medal in the heavyweight in Amsterdam. Estonia didn't sent its team to the Games in 1932 due to the Great Depression and Arnold missed the Olympics in Los Angeles.
At the Summer Olympics in Berlin in 1936 (on the photo), Arnold Luhaaar won the bronze medal. He did win the clean-and-jerk with the Olympic record (165kg) which was 2kg less than the world record of the time set by legendary Egyptian strongman Sayed Nosseir.
In 1938, Luhaaar won the bronze medal at the World championship. He was a world record holder in clean-and-jerk, 8-x champion of Estonia in Olympic weightlifting (1926, 1928, 1932-34, 1936-38) and champion of Estonia in… Greco-Roman wrestling (1931).