American Weightlifters in the USSR (1974)
First of all, Happy Birthday to Dan Cantore of Team USA of the 1970s!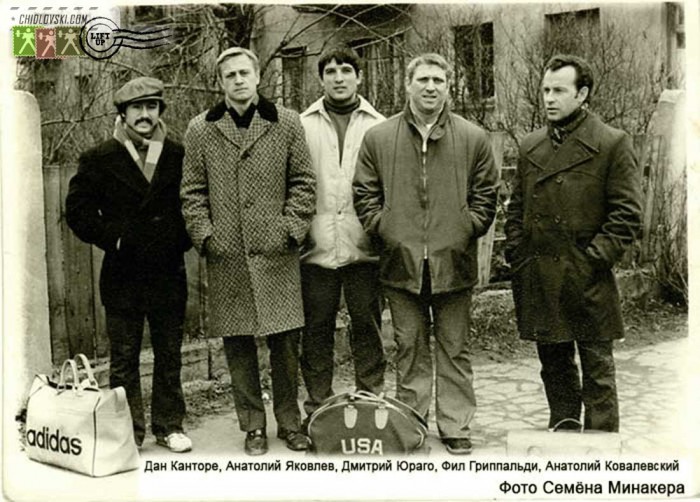 Minsk, Belarus, USSR, 1974 (left to right):
Dan Cantore (USA), Anatoly Yakovlev, Dmitry Yurago, Phil Grippaldi (USA), Anatoly Kovalevsky.
(Courtesy of Semyon Minaker, Belarus/Israel)
A while ago someone told me that great American weightlifter, 3x Olympian Phil Grippaldi spoke fluent Russian and actually went to Russia to study Olympic weightlifting. At first, I thought it was an urban legend.
Americans came to the USSR and staying there in the middle of the Cold War sounded like a fairy tale. I remember my friend from Czech Republic came to visit me in the 1980s and wanted to go to Leningrad for sight seeing. It was not allowed by the authorities and required several weeks for approval. It was a friend from Czechoslovakia in the 1980s. How about Americans in the 1970s!
Well, I was wrong. A year of so ago, Semyon Minaker, former weightlifter from Minsk, shared this photo with me. Dan Cantore and Phil Grippaldi staying and training in Minsk in 1974!
Later on Jeoff Fleming sent me a very convincing report of Dan Cantore from the International Olympic Weightlifter:
Phil and I travelled from Yerevan, where the Soviet Friendship Cup Tournament was held, to Moscow and then to Minsk.
We had an opportunity to train in all three cities. We were very impressed by the number of well equipped facilities and ny the vast number of enthusiastic participants of all ages who filled them.
In Moscow alone there were some 30 to 50 sports cluubs fpr weightlifting and other indoor sports. In Minsk, a small city (1/2 million) there were over a dozen such clubs.
Again each gym is well equipped and everyone who trains in them is doing so under the close supervision of a paid, qualified coach, or coaches, and trainers.
Dan Cantore, IOL, 1974
Just a blast from the past  and example of thinking out of the box 40+ years ago.
Again, Happy Birthday to Dan Cantore of Team USA of the 1970s!!!!