Anatoly Khrapaty (USSR and Kazakhstan)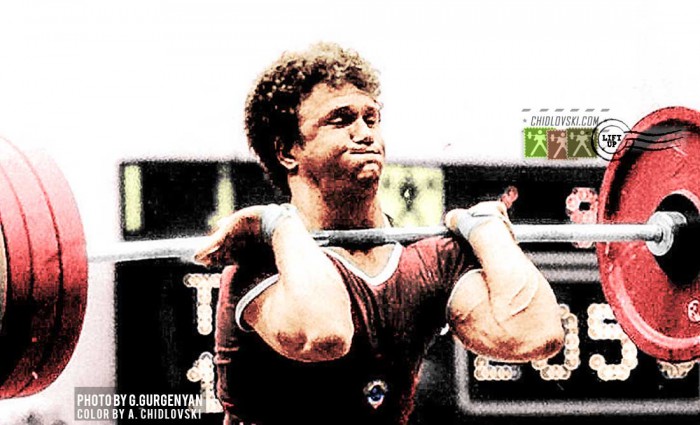 July 27, 1983, Moscow, Russia – 21-year old light heavyweight Anatoly Khrapaty of the Army club (Alma Ata) competes for Team Kazakhstan at the 1983 USSR Spatakiade in Moscow.
Khrapaty won his first national title at this tournament with 380kg ( 170+210) total in the 82.5kg class. In his weightlifting career, Anatoly won 3 titles at the USSR nationals (1983, 1984, 1986). He also won 3 USSR Cups and several gold medals in the snatch and total.
Anatoly Khrapaty (1968-2008) was an outstanding Olympic weightlifter. He was a 2x Olympian. Khrapaty won a gold medal in the 90kg class at the 1988 Summer Olympics for Team USSR and a silver medal in the 99kg class at the 1996 Summer Olympics for Team Kazakhstan.
At the World Championships, Anatoly Khrapaty won 5 gold and 2 bronze medals. At the Europeans, he won 5 gold and 2 bronze medals. He was a 2x vice champion of the Asian Games (1994, 1998) and set 5 world records.
After his retirement as an athlete, Khrapaty worked as a coach and was selected as a coach of Team Kazakhstan. A few days before the opening of the 2008 Olympic Games in Beijing, Anatoly Khrapaty died at 45 in a tragic motorcycle accident.