Ivan Ivanov (Bulgaria)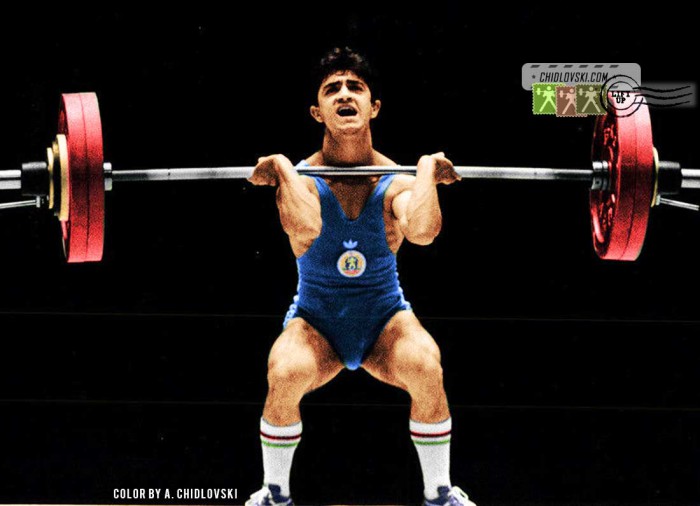 History in Color:
May 25, 1989, Fort Lauderdale, FL, USA – 18-year old flyweight Ivan Ivanov of Shumen, Bulgaria wins the 52kg class with 250kg total (107.5+142.5) at the 1989 World Junior Championships in Fort Lauderdale.
Ivan Ivanov (b. 1971) was an outstanding Bulgarian flyweight of the 1990s. It was rather a turbulent time for Bulgarian weightlifting that was facing the consequences of team disqualifications at the 1988 Summer Olympics. And Ivan Ivanov was one of the key athletes that propelled to the top of the world in that era.
Ivanov represented his country at the 1992 Summer Olympics in Barcelona and became an Olympic champion in the 52kg class.
At the World Championships, he dominated the flyweight with 4 golds (1989, 1990, 1991, 1993), silver (1994) and bronze (1998, bantamweight). He was a 5x European champion (1989, 1990, 1992, 1993, 1998) , 2x silver medalist (1995, 2000) and 2x bronze medalist (1991, 1995) of the European Championships.
Ivan Ivanov updated the book of world records 4 times (2 cj's and 2 totals).
Note: At the 1991 World Championships in Donaueschingen, Ivan Ivanov won the flyweight class and set a 155.5kg world record. His bodyweight was 51.9kg at the weigh-in before the competition. So, Ivanov completed almost a 3x bodyweight cj when he set his world record – 155.7kg would have been the weight to lift. However, we don't know the bodyweight of Ivanov when he actually cj'd 155.5kg. Perhaps, it is the case of another unsung hero – an unofficial member of a 3x Bodyweight Lifting Club.