Alexander Falameev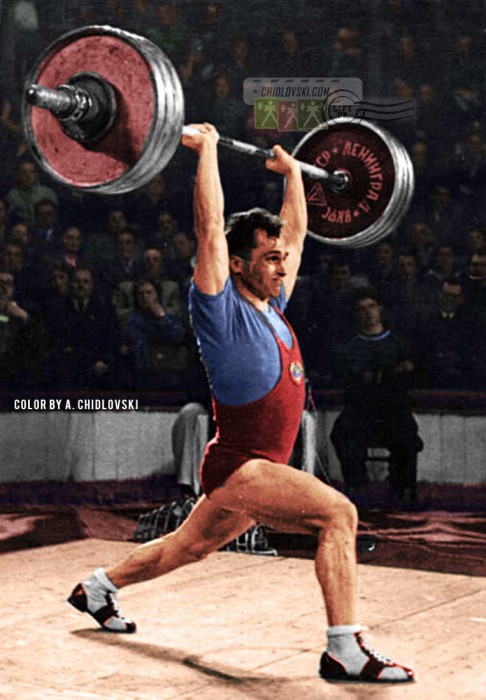 The cover of the History in Color series features Alexander Falameev, athlete, coach, educator, referee and one of the key figures in the development Olympic weightlifting in Leningrad (Saint Petersburg), Russia.
Alexander Falameev (1924-2007) was the person responsible for Olympic weightlifting sport in Leningrad for decades.
Falameev was an Air Force WWII veteran. He began to train as a weightlifter at the age of 24. His coach was Nikolay Koshelev, the author of the first Soviet "Koshelev's" barbell.
As an athlete, Falameev competed in the lightweight class for various local clubs in Leningrad (Avangard, Trud and more). In 1954, he won the bronze at the USSR Championships in the 67.5kg class. In the next two years, Falameev won the USSR Championships gold medals in the lightweight (1954 and 1956).
During the 1954-1956 period, he was a candidate to the national weightlifting team. He represented Team CCCP in the historical 1955 USSR vs. USA weightlifting series. Falameev won his match against Joe Pitman of the Team USA in Leningrad.
After the end of his career as an athlete, Alexander Falameev worked as a coach, referee, educator and sports manager in his hometown of Leningrad. He was the head coach of Team Leningrad (1959-1976), worked with the national Team USSR (1965-1975), Team Yugoslavia (1960), Team Burma (1963-1965).
Alexander Falameev was the Chairman of the Leningrad Federation of Olympicweightlifting (1958-1984) and also taught at the main sports university of Leningrad (Lesgaft) in 1958-1984.