George Popov (CCCP)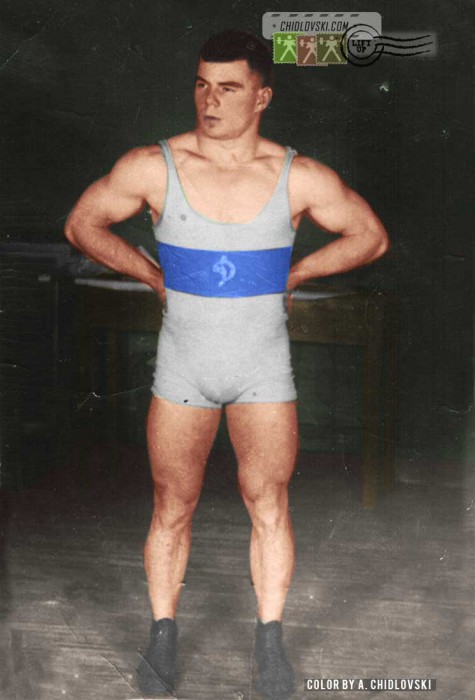 The series cover photo features one of the greatest Soviet weightlifters of the pre-WWII era, George Popov (1912-1974).
George Popov belongs to the group of outstanding Soviet athletes that were called "record breakers" before the beginning of the war. The USSR weightlifting  became an official member of the international federation only in 1946 and most of the records set before were not qualified to be official.
George Popov set 69 national records at that time. 28 of those were higher that the world records.
He competed for the Dynamo and Spartak clubs of Kharkov and Kiev, Ukraine. The cover photo shows George Popov in the period of time around 1933 when he trained and competed for the Dynamo team of Kharkov.
Needless to say, Popov competed on the national level in ALL weightlifting classes throughout his career – from the bantamweight in 1932 to the heavyweight in 1956! He won gold medals at 11 USSR Championships (1933-1940, 1945-1947)!
At the time the Soviet Union joined the international weightlifting federation, George Popov was way past his prime. However, he still had a decent performance on the international arena. As a 34-year old rookie of World Championships, George Popov won a bronze medal an the 1946 World Championships in Paris and, a year later, a silver medal at the 1947 European Championships in Helsinki. Both medals were won in the lightweight class.