And the Olympic Gold Medal Goes To… Ivan Udodov (USSR)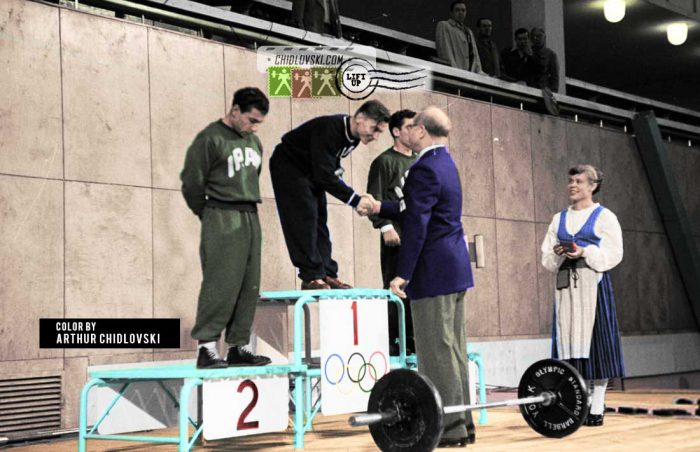 History in Color:
July 25, 1952, Helsinki, Finland – Soviet bantamweight Ivan Udodov of Rostov, Russia receives a gold Olympic medal for winning the 56kg weight class at the 1952 Summer Olympics in Helsinki.
This is a truly historic moment for the Soviet Olympic weightlifting. Ivan Udodov (1924-1981) won the first ever Olympic medal in weightlifting for Team CCCP. Never to forget.
---
1952 Summer Olympics
Location: Helsinki, FIN
Weight Class: Bantamweight  [56 kg]More Info On 1952 Summer Olympics
Rank
Athlete
Results (kg)
1
Ivan UDODOV, Soviet Union
90 + 97.5OR+ 127.5OR = 315OR
2
Mahmoud NAMJOU, Iran
90 + 95+ 112.5 = 307.5
3
Ali MIRZAI, Iran
95 + 92.5+ 112.5 = 300
4
Hae-Nam KIM, South Korea
80 + 95+ 120 = 295
5
Kamal Mahgoub MAHMOUD, Egypt
75 + 95+ 122.5 = 292.5
6
Pedro LANDERO, Philippines
90 + 87.5+ 115 = 292.5
7
Maurice MEGENNIS, Great Britain
82.5 + 85+ 112.5 = 280
8
Lon Mohamed NOOR, Singapore
77.5 + 85+ 112.5 = 275
9
Rosaire SMITH, Canada
75 + 85+ 115 = 275
10
Karel SAITL, Czechoslovakia
80 + 80+ 112.5 = 272.5
11
Nils Uno JACOBSSON, Sweden
80 + 87.5+ 105 = 272.5
12
Marcel THEVENET , France
85 + 77.5+ 107.5 = 270
13
Arvo VEHKONEN , Finland
72.5 + 85+ 110 = 267.5
14
Josef SCHUSTER, Germany
90 + 75+ 102.5 = 267.5
15
Nicolas VIVAS ROSALY, Puerto Rico
75 + 87.5+ 102.5 = 265
16
Roland MAGNENAT, Switzerland
70 + 77.5+ 102.5 = 250
17
Augustyn DZIEDZIC, Poland
70 + 80+ 95 = 245
18
Alexandru COSMA, Romania
70+ 105 = 0
19
Isamu SHIRAISHI, Japan
80 + 0+ 0 = 0
Back to Search Tournaments