Alexander Galkin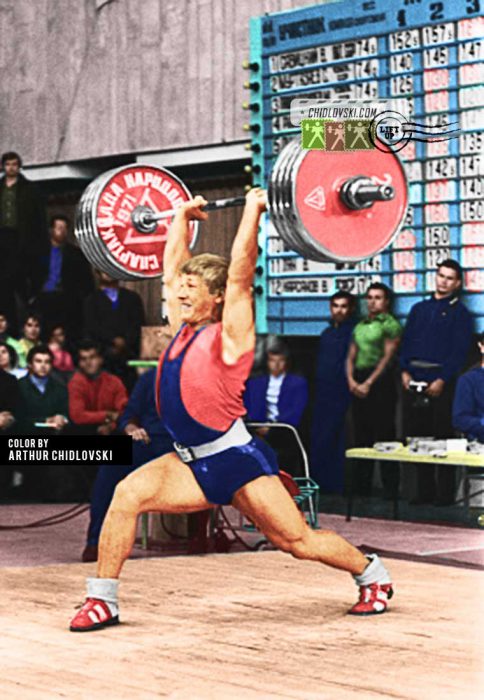 History in Color:
July 20, 1971, Moscow, Russia – 19-year old Alexander Galkin of Spartak, Donetsk competes in the 75kg weight class at the 1971 USSR Spartakiade in Moscow.
Alexander Galkin won a bronze medal in the tournament.
He ended up with a solid 455kg total (150+130+175). The junior lifter managed to place right behind two experienced athletes, Vladimir Kanygin and Valentin Mikhailov.
In a few months Galkin won the USSR Cup with 470kg total and won gold medal in both the snatch (135kg) and jerk (180kg).
In 1974, Galkin competed for the Army Club of Kiev, Ukraine and wins a silver medal (Viktor Kurentsov won the gold). A year later, Galkin won the 1975 Ukraine Championship in Voroshilovgrad and reached his best total 320kg (137.5 + 182.5) at the 1975 USSR Championship (6th place)
At that time, Galkin was only 23. I couldn't trace any info on this young and promising athlete after 1975.
I asked for help and here is the answer I received from his former teammate:
I knew Alexander Galkin since 1968. We trained together in Spartak club in Donetsk. His coach at the time was Michael Toper. He passed away. We were very young and had the whole life ahead. After his successes in sports, something went wrong with Alexander. He began to drink. After that he lost his job and stopped training. He committed a suicide in 1980. I don't know the details. Perhaps the year of death is not accurate. I got this info from the athletes I know. They kept in touch with Alexander. I am 68 now and it's so sad to write about it. Stay healthy and patient – to all.
It was posted on public discussion forum – so, I don't violate privacy. Of course, it's very sad and tragic. My take on sad cases like this – better know the truth than rumors that make the whole story worse.
R.I.P. to the Champion!