Team Bulgaria 1972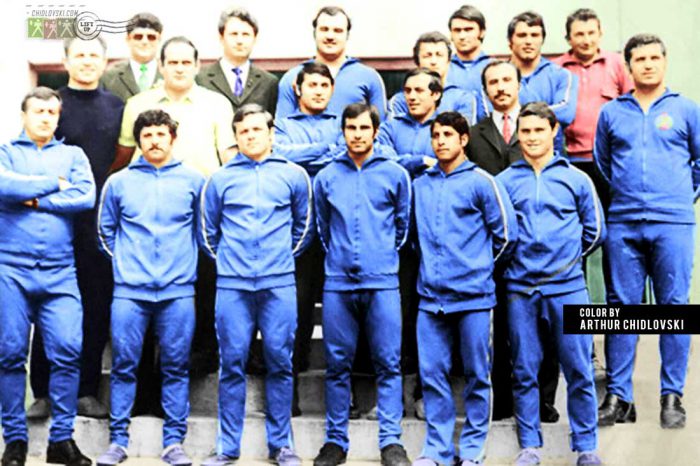 History in Color:
May 1972 – Ivan Abadzhiev has assembled the his Team Bulgaria Weightlifting for the 1972 European Championships in Romania (left to right):
Front row:
Ivan Abadzhiev (Head Coach), Norair Nurikian (60kg, silver), Mladen Kuchev (67.5kg, gold), Georgi Todorov (56kg, silver), Mustafa Mustafov (52kg, 4th), Atanas Kirov (56kg, 4th)
Middle row:
Asen Stoev (BWF, President), Executive, Jordan Bikov (75kg, gold), Stefan Tsonchev (67.5kg), Jordan Usunov (massage therapist), Jordan Ivanov (coach)
Top row:
Execitive, George Georgiev (doctor), Dimitar Trombardjiev (110+kg,  BO), Dimitar Slavov (82.5kg) Atanas Shopov (90kg, silver), Andon Nikolov (90kg, bronze), Executive.
Special thanks to Alexander Kraychev for identifying athletes, coaches and other team members. Kraychev was injured and didn't participate in the 1972 European Championships in Romania in May 1972.
The names of the athletes are followed by their weight class and the place they took in the tournament.