Alexander Pervy (1979)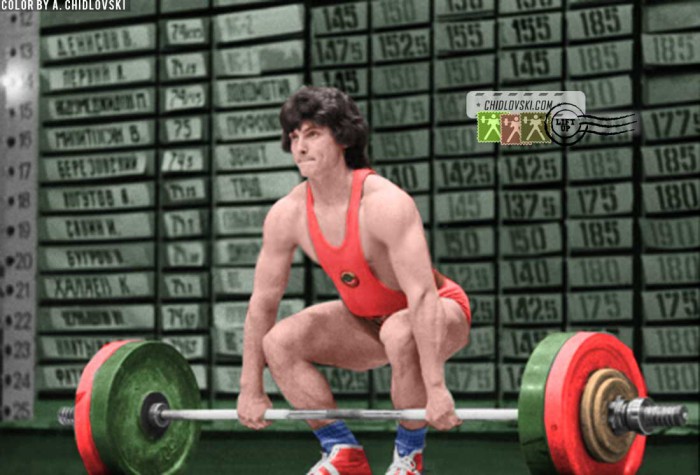 History in Color:
One of the brightest young athletes of the Soviet and international Olympic weightlifting, middleweight Alexander Pervy (1960-1985) of the Army club in Donetsk, Ukraine competes at the 1979 USSR Cup in Frunze, Kirgizia.
Needless to say, Alexander Pervy was one of my personal favorite weightlifters of all times and nations. His battle for gold vs. Asen Zlatev of Bulgaria in the 75kg class at the 1980 Summer Olympics in Moscow is one of the most exciting weightlifting battles in my life. Many experts told me afterwards that it was impossible to beat Asen Zlatev that night. Not sure if it is true – Alexander fought hard and set 3 world records that night.
In 1987, I was no longer involved in competitive weightlifting. I worked on TV and did a lot of stand-up comedy for a living. We had a concert tour and visited Donetsk, the hometown of Alexander Pervy. Our friends in Donetsk asked me what would I like to see in Donetsk. Without a blink in my eye, I said I'd like to see Alexander Pervy. That was the first time I found out that Alexander passed away 2 years ago at 25.